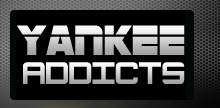 February 21, 2010 · Harold Friend · Jump to comments
Article Source: Bleacher Report - New York Yankees
Brit Annie Spares is not fond of many New York Yankees.
She has said on more than one occasion that she didn't like Joe DiMaggio, but she followed that up by telling anyone who would listen that she admired him more than any player she had ever seen.
Brit Annie recalls some anecdotes her mother told her about DiMaggio's great hitting streak in 1941.
Let's get it straight. I didn't like Joe DiMaggio. He was stand-offish, prideful, and, to use a modern term, too full of himself.
But oh, how I admired Joe DiMaggio, the baseball player.
Did He Get a Hit?
My mother followed DiMaggio's 56-game hitting streak in 1941. It was unbelievable.
The fact that the only media were newspapers and radios. almost paradoxically, actually contributed to the excitement.
Unlike today, fans had to make a real effort to find out if Joe hit safely. They weren't bombarded by 72-inch television screens when they went shopping or ate in a restaurant.
Almost nobody asked if the Yankees had won. The question was, "Did he get a hit?"
My mother was at Yankee Stadium when the Boston Red Sox, baseball's greatest franchise, was in town for a double header. I was there as well, but I couldn't see much from her uterus.
The streak was at 42 games, which meant that DiMaggio could tie Wee Willie Keeler's major league record of hitting in 44 consecutive games in the nightcap.
Close Calls
Boston lefty Mickey Harris retired Joe his first two at-bats.
Next time up, DiMaggio hit a tricky ground ball behind the third base bag that Jim Tabor, known for his powerful throwing arm, fielded cleanly, but hurrying his throw, Tabor made a wild peg to first base.
DiMaggio wound up at second as everyone wondered how the play would be scored.
Dan Daniel, who was official scorer for more than 20 of the games during the streak, felt the pressure. Calling it a hit would create doubt, while ruling it a two-base error would create resentment.
Daniel realized that he had decide quickly in order to demonstrate that he was certain of his ruling. It was immediately called a one-base hit and Daniel charged Tabor with an error for allowing DiMaggio to reach second base.
The crowd roared its approval, but it was a questionable call.
Of course, there was one way to get rid of any doubts. Next time up, Joe hit a hard single to left field for a clean hit. He hit safely in the second game to tie Wee Willie.
"A funny thing about that streak is that I always got a genuine hit in every game where I also got a cheap one."
Another time during the streak, against the White Sox, Joe hit a routine grounder to Luke Appling. As the shortstop reached down, the ball struck a pebble, hit Luke in the forehead, and caromed into the outfield.
It was clearly a hit, but Dan Daniel hesitated. "Damn you, DiMaggio. Hit 'em clean."
Daniel then signaled that it was a hit. DiMaggio hit a home run his next at-bat.
The streak almost ended a few other times.
DiMaggio was facing submarine pitcher Eldon Auker of the old St. Louis Browns in the ninth inning.
Joe, who was the fourth scheduled batter, was still hitless. A Yankee reached base, and DiMag, swinging at Auker's first pitch, lined a double down the third base line to extend the streak to 38 games.
Two days later, Johnny Babich of Philadelphia tried to walk the hitless DiMaggio, but Joe went after a high, outside fast ball that would have been ball four, and lined a single through Babich's legs.
Another time, against the Red Sox, Joe hit a drive to the monument (only one monument in 1941) in deepest center field.
The Boston center fielder raced back and made a circus catch to rob his brother of a needed hit.
"It speaks well for the integrity of the game, but Dom didn't have to rub it in that way…especially when he's coming to my house tonight for dinner."
A Winner
Joe DiMaggio was a winner.
He joined the Yankees in 1936 and the Yankees were World Champions from 1936-39. It was the first time a team won four consecutive World Series.
The Yankees won nine World Championships during DiMaggio's 13 seasons, Joe was an All-Star every season he played, and he won three MVP Awards.
Joe DiMaggio was the greatest player to play center field. Now, I am Red Sox fan, but baseball "experts" who are better judges of talent than I pretty much agree with me on one thing.
The greatest defensive center fielders in the DiMaggio family were Vince and Dom, not Joe.
Reference:
By ARTHUR DALEY. (1966, July 3). Sports of The Times: Anniversary of a Streak. New York Times (1923-Current file), p. 96. Retrieved Feb. 21, 2010, from ProQuest Historical Newspapers The New York Times (1851 – 2006). (Document ID: 93851508).
Read more New York Yankees news on BleacherReport.com