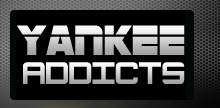 March 19, 2010 · Bronx Baseball Daily · Jump to comments
Article Source: Bleacher Report - New York Yankees
There was some concern over over Derek Jeter's right hand yesterday after he came up visibly sore on a diving play in the fourth inning.
It didn't appear to be a big deal at the time, and manager Joe Girardi said he didn't even notice Jeter's discomfort.
But when it comes to The Captain, injuries are almost literally the only thing that can hold him back.
Well, apparently there wasn't much to worry about. Girardi told reporters after the game that "Jeet" felt fine, and when reporters followed up with Jeter this morning, he didn't even know what they were talking about.
Jeter also played in this afternoon's game and showed no lingering effects, going 1-for-3 with two RBI.
This is definitely nothing, but after hand injuries hurt his production in 2008, I thought I'd keep an eye on things.
Related Stories
Read more New York Yankees news on BleacherReport.com