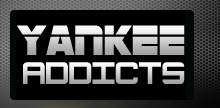 February 10, 2010 · Bronx Baseball Daily · Jump to comments
Article Source: Bleacher Report - New York Yankees
Derek Jeter won the Gold Glove award three years in a row from 2004 through 2006, but was still considered by many to be an inferior defender at shortstop to the point where "Past A Diving Jeter" became a cliched phrase.
His UZR in those years was -0.4, -14.3, and -6.8. At a position where defense is imperativeve, those numbers just weren't cutting it. Recently, however, there has been a different trend.
In 2007, his UZR was at an all-time low at -15.3, it rebounded quite a bit in 2008 to -0.5, but it was still in the negative range. Last year he posted a career high 6.6, the first positive number since they started keeping track of UZR.
Was this just a coincidence? Not according to Joel Sherman of the NY Post who's column today was about a sit down he had with general manager Brian Cashman in 2008 about his defense:
Even his most loyal supporters—and Torre was as loyal to Jeter as anyone—recognized a position change might be necessary. There had been some sentiment to make Jeter the successor to Bernie Williams in center before Johnny Damon came aboard in 2006. And by the time the 2007 season ended, the issue could not be ignored any more.

So Cashman took Jeter to dinner in Manhattan and told the Yankees captain that his side-to-side actions must improve. Jeter has an outsized athletic arrogance. He believes in himself completely, which allows him to deftly block out criticism and negativity. This trait enables him to thrive in the cauldron, but also prevents him from seeing personal shortcomings the way others perceive them. Still, to his credit, he agreed to try a new way.

With the Yankees paying the bills, Jeter enlisted Jason Riley, the director of performance at the Athletes Compound in Tampa. Riley formulated a plan to increase Jeter's first-step quickness, particularly in fielding grounders to his left. Power lifting was diminished, agility—especially in the hips—was emphasized , weight was lost. The results came slowly at first in 2008 and in a wave last year when Jeter had one of his finest defensive seasons.

"The player Derek is, he took to it and said, 'Watch, I will prove you wrong,' " Cashman said.
The fact that at the age of 35 Jeter had the best defensive year of his career is really amazing. For the past few years we've heard rumblings that he might have to move to left field or DH, but it appears that the opposite is happening. Jeter is only cementing his position on the infield.
There may be a time when he does have to move, but after winning the 2009 Gold Glove, maybe his first legitimate one, it may be a couple of years before the Yankees have to start looking for a replacement shortstop.
2010 will be the biggest indicator of how long Jeter has left at shortstop. If he continues this positive defensive trend then the Yankees can go into contract negotiations knowing that they are resigning a shortstop and not a future DH. It's good timing that he is in a contract year. It may drive up his price, but the Yankees would probably prefer to pay top dollar for top talent then to pay him, say, $10 million a year just to keep him around because his name is Derek Jeter.
Related Stories
Read more New York Yankees news on BleacherReport.com