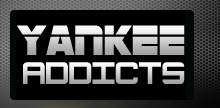 February 4, 2013 · Joseph Zucker · Jump to comments
Article Source: Bleacher Report - New York Yankees
Derek Jeter is making the smart move to keep mum regarding Alex Rodriguez and the news regarding Rodriguez's possible performance-enhancing drug usage.
According to an Associated Press report (h/t SportsIllustrated.com), the New York Yankees shortstop had very little to say publicly about A-Rod: "I don't comment on anyone until they speak first," said Jeter Monday. "Let him address his situation before I comment on it. Let him speak first and then we'll talk about that."
In some cases, you might see a teammate jumping to Rodriguez's defense and proclaiming the third baseman's innocence and how this whole situation is a witch hunt against him.
It certainly wouldn't be the first time the media has falsely accused a player of using PEDs. With the way many reporters were quick to turn a blind eye in the '90s, it's a bit ironic how those same people are now willing to nail any possible PED user, no matter how flimsy the accusation, to the stake.
Rodriguez, though, is a much different case.
He has already admitted to using banned substances before. He doesn't exactly deserve the benefit of the doubt now that the Miami New Times' report has come out.
As most know, Rodriguez's name was on a list along with many others from a Miami clinic that is believed to have distributed various banned substances.
While Jeter's long been one of the league's least controversial players, this would be the perfect moment for all of his critics to pile on him for slipping up.
It would be foolish for him to steadfastly stand behind A-Rod, for the third baseman to then come out publicly and admit to more PED use. Plus there's also the damning evidence that already exists for people to throw back in Jeter's face should he say Rodriguez is innocent.
In addition, Rodriguez and Jeter might not even be teammates for that much longer.
Andrew Marchand and Wallace Matthews of ESPNNewYork.com reported last week that the Yankees might be looking to void Rodriguez's contract. That would hinge upon the league handing down a punishment upon Rodriguez.
If there's the possibility of A-Rod not even being in New York next season, where's the motivation in defending him?
Jeter's issues at this point are much greater than worrying about the situation surrounding Rodriguez.
At 38 years old, he needs to work his tail off in rehab to be able to ready for Opening Day for the upcoming season. The shortstop fractured his ankle during the 2012 American League Championship Series.
That injury was set to keep him out for months, with spring training/Opening Day as the goal. The last thing Jeter needs is to be hassled for something idiotic he said about Rodriguez.
Read more New York Yankees news on BleacherReport.com