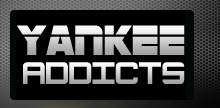 News published by
September 14, 2016
New York Yankees outfielder Aaron Judge suffered an oblique strain in his team's 3-0 win Tuesday night over the Los Angeles Dodgers. He's been placed on the 15-day disabled list, ...
February 9, 2016
New York Yankees starting pitcher Masahiro Tanaka is inching closer to a full return to the mound after undergoing elbow surgery in October. It is uncertain if he will be ...
January 12, 2016
The New York Yankees acquired Tyler Olson and Ronald Torreyes from the Los Angeles Dodgers for Rob Segedin, per Fox Sports' Ken Rosenthal.This is the second move from the Dodgers ...
January 11, 2016
In a little over a month, pitchers and catchers will report to Tampa, Florida, for the New York Yankees' spring training. Manager Joe Girardi is already figuring out how he'll ...
June 13, 2015
Alex Rodriguez has crossed various statistical plateaus during the 2015 MLB season and added another achievement to the list Saturday night against the Baltimore Orioles. The New York Yankees third baseman ...
February 15, 2015
Derek Jeter is looking to make a complete break from the New York Yankees in retirement. The legendary shortstop confirmed that he won't be in attendance at Yankee Stadium when ...
July 31, 2014
What tricks does New York Yankees general manager Brian Cashman have up his sleeves in the next few hours? The Yanks are in an interesting position. At the time of writing, ...
July 30, 2014
It's not every day that you get to meet an American icon. Former President George W. Bush must have been honored when he got to rub shoulders with Derek Jeter. Throughout ...
July 18, 2014
New York Yankees fans will want to clear their calendars on Sept. 7 as the team will celebrate the career of Derek Jeter. The Yankees announced on their official website that ...
May 20, 2014
Masahiro Tanaka tasted something on Tuesday night that's been foreign to him for nearly two years: defeat. The New York Yankees ace was the losing pitcher in his team's 6-1 defeat ...