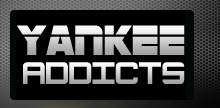 September 14, 2016 · Joseph Zucker · Jump to comments
Article Source: Bleacher Report - New York Yankees
New York Yankees outfielder Aaron Judge suffered an oblique strain in his team's 3-0 win Tuesday night over the Los Angeles Dodgers. He's been placed on the 15-day disabled list, per Jesse Spector of Sporting News.
Continue for updates.
---
Judge Likely Out for Season
Wednesday, Sept. 14
Speaking to reporters, Yankees general manager Brian Cashman said he doesn't think Judge will return this year, per Brendan Kuty of NJ Advance Media.
The injury came in the bottom of the fourth inning. During an at-bat against Dodgers starter Julio Urias, Judge called for the trainer after swinging and missing on a changeup and fouling off a fastball:
Judge stayed in the game to finish the at-bat but made way for Jacoby Ellsbury to start the fifth.
The 24-year-old figures to be a big piece of the Yankees going forward. At the start of the season, Baseball Prospectus ranked him as the top player in the organization's minor league system. He sits fourth on MLB.com following New York's midseason acquisitions of Clint Frazier and Gleyber Torres.
Gary Sanchez's breakout has largely resulted in Judge getting overshadowed, though. Judge is also batting .179 with four home runs and 10 RBI in 95 plate appearances.
While it would be nice for Judge to continue getting at-bats in the majors, there's little sense in putting him at further risk for injury with so little time left in the season. The Yankees are still in the playoff hunt, but given his struggles at the plate, it's doubtful Judge would help New York's postseason chances all that much.
The Yankees announced Rob Refsnyder will start in right field for Wednesday's 4:05 p.m. ET game against the Dodgers. An outfield of Ellsbury, Refsnyder and Brett Gardner is likely manager Joe Girardi's preference going forward with Judge unavailable.
Read more New York Yankees news on BleacherReport.com