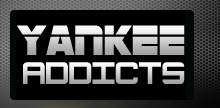 November 27, 2010 · Larry Barnes · Jump to comments
Article Source: Bleacher Report - New York Yankees
SI.com's Jon Heyman chimed (oops…make that Tweeted) in with some new info on the Derek Jeter debacle tonight.
According to Heyman, while the New York Yankees are willing to sweeten their offer to Jeter "by a couple mil a year," the Yankees captain will have to accept a pay cut to remain with the team.
Well, we would certainly hope so. Since when do 37-year-olds who have already hit the wall NOT take a pay cut on their next contract?
Jeter and the Yankees will eventually work out a new deal, and that deal will pay Jeter at least three times more than any other team would even think of offering the now-common-as-they-come shortstop.
And as overpaid as Jeter will be in the first year of this eventual deal, imagine what it's going to look like when the Yankees are serving up $17-18 million worth of charity three (or four) years from now to the 40- and/or 41-year-old Jeter.
And don't expect this contract to be the last major issue with Jeter and his massive ego. There will be more problems when Jeter is moved to the bottom of the batting order, and then again when he's moved from shortstop—both things that should have already happened.
And speaking of Jeter moving from shortstop…Where exactly will he move to? Third base? Left Field? This over-the-hill goof doesn't hit enough to play a corner anything for anybody NOW. What? He's going to get his power back three years from now?
Brian Cashman should be taking a page out of his Bernie Williams playbook and just stop answering the phone when Jeter or agent Casey Close shows up on the caller ID.
Heyman also tweets that the Yankees "hope to make inroads with Jeter next week, and maybe even wrap things up by the Winter Meetings."
Oh, what I wouldn't give for Jeter to have already reached 3,000 hits. Were it not for that singular milestone sitting out there, waiting patiently for Jeter to limp on past, we wouldn't even be having this conversation.
Read more New York Yankees news on BleacherReport.com