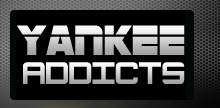 November 29, 2010 · Dan Hanzus · Jump to comments
Article Source: Bleacher Report - New York Yankees
You have to hand it to Hal Steinbrenner: He's more than just a man with a outstanding wave of auburn hair. There are some serious brains under that Superman coif.
Imagine if someone asked you, in one word, to describe the last week of As The Jeter Negotiations Turn. Now throw out "stupid", "awkward", "embarrassing", "unnecessary", and"distasteful". What are you left with?
You said "messy", right? If so, you just came up with the exact word Hal used to describe the then-pending Jeter talks on Michael Kay's radio show in October.
In case you're still in an A.J. Burnett-induced coma, here's a quick rundown of the events of the past seven days:
Sunday: Jeter's agent, Casey Close, makes the calculated decision to bring negotiations into the public forum. He laments the Yankees' "baffling" bargaining strategy.
Tuesday: The Yankees lose containment on Hank Steinbrenner when an AP reporter reaches him via telephone. "As much as we want to keep everybody, we've already made these guys very, very rich, and I don't feel we owe anybody anything monetarily. Some of these players are wealthier than their bosses."
Ladies and gentleman, Hank Steinbrenner!
Meanwhile, Brian Cashman — obviously rankled by Close's comments — challenges Jeter. "We've encouraged him to test the market and see if there's something he would prefer other than this," Cashman told ESPN. "If he can, fine. That's the way it works."
Translation: I have a straight flush. You're holding a 3, 7, 8 and two joker cards. Now what?
Wednesday: A Boston-area blogger named Sully writes that Jeter is overrated and shouldn't win Gold Gloves. Sully becomes the 20,000,000th person to use the internet to express this opinion. He is recognized with a $20 gift card for use at the Dunkin' Donuts in Medford.
Thursday: Jeter has an outstanding Thanksgiving dinner with family and friends at his Tampa compound. Girlfriend Minka Kelly sits beside him, presumably in a form-fitting top and hot teacher glasses. Even in these uncertain times, the difference between his quality of life and yours is startling.
Friday: The Daily News reports Jeter had demanded a six-year, $150 million contract — an average of $25 million a year — from the Yankees, who have offered him three years at $15 million per. The New York Times reports a similar demand. Close's e-mail response: "The recently reported terms of our contract proposal are simply inaccurate."
This week will be an extremely important one in the negotiation process. The longer this drags out, the nastier this situation has the potential to become. Both sides made statements last week that poured accelerant on the fire. Another week of he said/she said could create an inferno neither side can control.
If both sides are smart, they should realize the time for posturing is over. We're nearly in December now. The winter meetings begin in a week and Cashman's attention should be squarely on acquiring Cliff Lee.
Speaking of Lee, if the Jeter talks get uglier, you have to imagine that would send a bad message to both the pitcher and that sweet angel of a woman he calls his wife. After all, would you want to get into bed with a team that was publicly dogging their biggest star since Mickey Mantle?
Full disclosure: I've been more on the organization's side on this. I believe three years for $45 million is more than fair compensation for a player with as many miles on the odometer as Jeter has.
That said, this is Derek Jeter we're talking about, so the Yankees are going to have to show some flexibility. That doesn't mean they need to roll over like they did in the A-Rod opt-out negotiations. That was like Briana Banks at the AVN awards-level flexibility.
We're talking a subtle bending of their thought process. Perhaps they take a page out of the A-Rod deal — please, one page only — and include some escalators that kick in at certain milestones. 3,000 hits, 3,500 hits, 2,000 runs. Nothing too crazy, just something that would theoretically take the contract into the $50-55 million range.
Everybody wins in that scenario. The Yankees wouldn't have to grossly overpay for Jeter's return, and Jeter can face the public without it seeming like he came crawling back.
Is it just me, or does this not seem like it should be so complicated?
There's a thin line between messy and ugly. The Yankees — and Jeter — would be wise not to cross it.
Dan Hanzus writes the Yankees blog River & Sunset and can be reached at dhanzus@gmail.com. Follow Dan on Twitter @danhanzus.
Read more New York Yankees news on BleacherReport.com