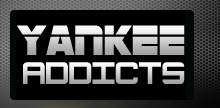 February 14, 2010 · Joseph DelGrippo · Jump to comments
Article Source: Bleacher Report - New York Yankees
One of the biggest storylines this spring training perpetuated by the media for the New York Yankees will not be who hits in the No. 2 spot (it should be Curtis Granderson) or who will be the no. 5 starter (although that should be Joba Chamberlain).
The biggest storyline will be the inevitable re-signing of Yankee icon, future first ballot Hall-of-Famer, Derek Jeter.
The story is not really a story, but made up as one by the media, because Jeter will always be a Yankee until he retires. No way does he put on any other uniform to play a Major League game.
Same thing with Mariano Rivera.
Those fans and "writers" who think the either of these Yankee future HOFer's will not sign again for the Yankees are likely the same blowhards who really thought Joe Mauer was going to enter free agency and the Boston Red Sox or New York Mets were going to swoop him up for the 2011 season.
Recently, Johnny Damon was discussing his divorce from the New York Yankees to any media outlet who wanted to listen. He is still trying to lobby for a two-year deal.
On the WFAN radio show in New York, Damon discussed his Yankee divorce with host Mike Francesca. I want to say that I did not hear the interview live, but listened to the podcast and read its excerpts in the New York newspapers.
It is not the first divorce in Damon's professional, or even personal life. One of the reasons bandied about Damon wanting to play solely for more money is that he lost millions in the divorce from his first wife. Then he supposedly lost even more in the Florida-based Allen Stanford $8 billion investment scandal .
Damon might have been better off marrying Stanford and investing money with his first wife.
During the interview Damon said, "Hopefully this doesn't happen with Derek next year. I say there's no way Derek can go anywhere else ."
While Damon did acknowledge that Jeter's situation is completely different, he hopes Jeter doesn't encounter similar negotiating difficulties with the team when the franchise's all-time hits leader becomes a free agent next winter.
"… I hope he's not offered a 40-45% pay cut. But I know Derek's going to go out and produce this year and I know they will treat him with respect."
I guarantee, Johnny, that the Yankees will treat Jeter with respect, and that Jeter will treat the Yankees with respect, too.
Jeter is the home grown winning Yankee star of my 12 year old son's generation, just like Thurman Munson was of my generation and Joe DiMaggio was of my father's generation. Those three players were the childhood heroes of three generations of Joseph DelGrippo's. (Wow, three generations of opinionated sports fans is just way too much.)
All three of those Yankee greats were private individuals who won back to back World Series titles. Munson was the consummate family man, ultimately dying because of his desires to see his family during the season.
Jeter was more similar to DiMaggio. Both were single, classy New York City savants who owned the Big Apple — if they so wanted, but both usually stayed behind the scenes loving their privacy.
Jeter knows his Yankee history, knows his place in that history as the leader of the late 90's dynasty and the latest in the short list of Yankee Captains. He respected the Iron Horse when he broke Lou Gehrig's All-Time Yankee hit record; he respected the Yankee fans with his great impromptu speech after the last game at the previous Yankee Stadium.
And he will respect the great DiMaggio by leaving the Yankees the same way the Yankee Clipper left the team (and the game) after the 1951 season, by retiring when he felt he was beginning to embarrass himself on the field, and "the game was no longer fun."
Speculation has run over the last several years what the Yankees will do with their current icon. With all the money spent over the last three seasons on Jorge Posada, Alex Rodriguez, CC Sabathia, AJ Burnett and Mark Teixeira, the Yankees have doled out many future millions to these star players.
Will Jeter want or get similar money? Yes, he will. Everybody has their opinion on whether the Yankees will sign Jeter for three, four or even five more years to the tune of $20 million (or more) per season. That is an unheard of contract for a 36-year-old player, even one that is coming off arguably his best ever season.
But Jeter is different than everyone else in the game right now, even different than Albert Pujols and Mauer.
That is why the Yankees will re-sign Jeter to an approximate 10-year, $200 million contract extension immediately after the 2010 season . It would be the same length as his current deal with a little bit more money, so as not to have that Damon "pay cut" situation. Derek will then be a Yankee forever, and the long contract will eliminate all speculation about his future.
Why would the Yankees sign an aging (albeit very productive) 36-year-old player to a 10 year contract?
The key to this deal is that the Yankees will not even have to pay the entire contract .
According to the MLB Collective Bargaining Agreement, if a player is placed on the Voluntary Retired list, he forgoes his contracted salary. It happened recently with Salomon Torres, who retired from the Milwaukee Brewers after the 2008 season, leaving almost $4 million on the table.
Jeter will retire well before that entire new contract will be over, and the Yankees will not have to pay the entire $200 million.
Jeter is the type of Yankee hero and dignified person that he will not let his career spiral downward to that of Willie Mays or even Mickey Mantle, guys who every else knew was done well before they realized it and retired.
Mays played like he was a shell of his former self his last two seasons (ages 41 & 42), and should have retired after the 1971 season — on top. That 1971 season had Mays have an OBP of .425 (leading the league) and his San Francisco Giants won the National League West.
Mantle often said the one regret he had was he did not hit .300 for his career (he hit .298) because he held on too long.
Jeter will not let that happen to him and, similar to DiMaggio, will leave well before it begins to get embarrassing.
But even if Jeter does insist on playing the entire 10 years of his contract, it will still be worth it to the Yankees, a team who thrives on marketing like no other in baseball. Only the NFL's Dallas Cowboys compete with the Yankee marketing model.
Lets say Jeter signs that type of big 10 year contract, gives the Yankees five more good to great seasons (likely winning another World Series title) and, while beginning to shows signs of declining productivity he reaches age 40 with about 3,700 career hits. He will be on the precipice of becoming the third player behind Peter Rose (4,256) and Ty Cobb (4,191) to garner 4,000 hits.
Jeter chasing the all time hit record (a long shot to say the least) will attract much media attention and more marketing hype for the Yankees. With the Yankees penchant for milestones, they will allow him to get to 4,000….if Jeter wants. In Jeter's new deal, the Yankees can put in milestone achievement awards for getting 4,000 hits and even breaking Rose's record.
If Jeter is productive enough, he will continue to play to get that number or if the game begins to "not be fun" or his productivity sharply declines, Jeter will likely elect to bow out of the game gracefully — while on top and third overall in total hits.
Jeter has always wanted to be the shortstop for the New York Yankees and will be able to play that position as long as he wants. But if Jeter begins to decline significantly, he will not let milestones or even millions of dollars affect his decision.
And he will not go to any other team, ever.
And that type of contract is different to what Damon went through with the Yankees.
First, Jeter is a home grown Yankee icon, and paying him that type of future money is a bonus as much for his past heroics and it is for future production.
I don't care about Jeter's WAR over each season of my proposed 10-year contract or even what FanGraph's says what his production salary would be for each of those seasons.
Jeter is a different ballplayer and deserves better than any other player in the game, and the Yankees will feel the same way.
This is similar to how the Baltimore Orioles overpaid at the end for Cal Ripken's services and the Chicago Cubs overpaid for Ryne Sandberg.
At that time in 1992, both Ripken's and Sandberg's contracts were the highest ever in baseball.
Second, Jeter is not the greedy soul that Damon appears to be, and will not stay on just to collect the money. I know that sounds unbelievable to the common man struggling at work everyday to collect that next paycheck, but Jeter will not stick around for money's sake — even for a guaranteed $20 million a year.
Jeter has too much class and respect for the Yankee organization to just stay for the money. He was brought up different than most kids his age. He has the grace and class DiMaggio had playing the game on the field and will show the same class exiting the same game while moving off the field. 
Jeter will leave the game well before his career has a chance to end.
Read more New York Yankees news on BleacherReport.com