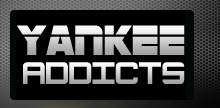 June 3, 2009 · Perry Arnold · Jump to comments
Article Source: Bleacher Report - New York Yankees
In last night's 12-3 win over the Texas Rangers, Derek Jeter, of the New York Yankees scored the 1500th run of his illustrious career.
In doing so Jeter joined a premier group of only four players in major league history who have 1500 runs scored, 2500 hits, 1000 RBI and 200 home runs in their first 15 years in the major leagues.
The only other players to match Jeter in this feat are Al Simmons, Stan Musial, and Hank Aaron.
By comparison, both Pete Rose and Alex Rodriguez fell short of these marks in their first 15 seasons.
Jeter now has played in 2034 games, has 2603 hits, has scored 1500 runs, has 1027 RBI and 213 home runs.
Rose, after 15 full seasons fell short in RBI, having only 902 and home runs, having only 143.
A-Rod falls short in hits, having only 2404 after 15 seasons.
It should also be pointed out that Jeter is now entering only his 14th full year in the major leagues. But he did play a few games for New York in 1995, making this officially his 15th season in the majors.