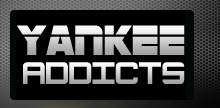 February 24, 2010 · Dan Hanzus · Jump to comments
Article Source: Bleacher Report - New York Yankees
Today over at ESPN.com, sports fans from around the globe were shaken to the core by the headline "Jeter Wants To Remain Yankee."
This is the equivalent of going over to CNN.com and seeing "Obama Wants To Remain President," or calling up TMZ.com to find "Madonna Wants To Keep Creeping You Out With Her Scary Arms."
So yeah, this is about as non-story as a story can be. But we're in the early portion of spring training, and writers stationed across Florida and Arizona have little choice but to stalk clubhouses like packs of starving dogs.
Sometimes, as with A-Rod's PED admission last spring, scribes luck into a Porterhouse steak. Other times, like Jeter's "revelation" that he likes being a Yankee, the beat guys have to make due with Alpo.
The fan's job is to sort out what's actual news and what's copy filler. Jeter's not worried about a deal getting done because he knows there would be riots on the streets if he were anywhere but New York.
And since the Yankees probably aren't too keen to a bunch of lunatic WFAN callers burning down their zillion-dollar stadium, they'll give Jeter basically whatever he wants. He has the organization over a barrel, and he didn't even have to get his hands dirty to do it.
Once again, Derek Jeter dominates all.
As a gift to my readers, River & Sunset will look into its crystal ball to provide an exclusive look at the details of Jeter's new contract with the Yankees.
What are my seer credentials, you ask? Well, I am the same guy who predicted the Yankees would win the World Series by beating the Phillies in six games…on April 5, 2009.
"Hey smart ass, in that same post you also predicted Wang would win 20 games."
What I meant to say is that Wang would appear in 20 games, and I fell short of that by just eight. Okay, that's a lie, but whatever. Let's stay on point here. My prediction:
Derek Jeter will re-sign with the Yankees in December. It will be a four-year contract worth approximately $18 million per season. The deal will include escalators that will allow him to match or better his current salary ($21.6 M in 2010) if he exceeds certain production markers. Everyone will be happy, including Nike, Ford, Dorothy and Charles Jeter, Minka Kelly, Gatorade, and your girlfriend/wife.
Brian Cashman will say he's happy, but this sentiment won't be completely accurate. On the surface he'll be thrilled, and if the club holds a press conference to announce the deal, the Yankees GM will gush about how Jeter is worth every penny.
But Jeter will be 36 in June, and the idea of handing out a lavish multi-year contract to a 36-year-old shortstop—a 36-year-old anything really—will gnaw at the business part of Cashman's brain.
Remember, Johnny Damon is 36 now, and after Damon griped on Monday about his sloppy departure from the Yankees, Cashman had this to say about his former left fielder:
"When we signed him, he was playing center field, a premium position, and the market was high. Now he's a left fielder, he's 36, in a collapsed market. Why would he not expect to take a pay cut?"
Well, Jeter's negotiations will occur in a collapsed market, and he'll likely be forced to move from his current premium position by the end of any contract he signs. Sound familiar?
Obviously, Johnny Damon is not Derek Jeter. But it does show you that any deal the Yankees strike with Jeter will not be one driven by the financial fundamentals that Cashman has weaved through the organization.
It will be about protecting their brand, and protecting the image of one of the most marketable entities ever to wear pinstripes. The payout may seem excessive in one sense, but it will be money well spent in every other sense that matters.
Dan Hanzus writes the Yankees blog River & Sunset and can be reached via e-mail at dhanzus@gmail.com. Follow Dan on Twitter at danhanzus.
Read more New York Yankees news on BleacherReport.com