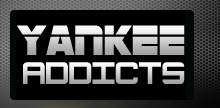 January 2, 2012 · Harold Friend · Jump to comments
Article Source: Bleacher Report - New York Yankees
Derek Jeter and Phil Rizzuto are two of the greatest New York Yankees. They epitomize what it means to be a Yankee in the tradition of Lou Gehrig, Joe DiMaggio, Mickey Mantle and Don Mattingly.
When the Yankees used to invite Rizzuto to Yankee Stadium to throw out the first pitch at a World Series game or to take part in an Old Timers' Game, he would almost always disappear, but it was for a good reason.
Scanning the field where the Yankees were taking fielding practice,Rizzuto would say to no one in particular, "Where's Jeter? Where's Jeter?"
When the Scooter found the Captain, they would hug. Joe Torre described the scene he had seen many times.
"You'd get those two together and they'd embrace. Of course, he was half Jeter's size. Whether it was a shortstop connection or the Yankees, spending your whole career in the same uniform, I think there was an automatic bond there."
Rizzuto helped Jeter when he joined the Yankees, which is something that Jeter never forgets.
"I'm sure that's probably part of the reason he went out of his way and took me under his wing," Jeter told Brian Hock. "I'm very familiar with the tradition of the Yankees and he's as popular and as good of a player as we've had."
Unlike many fans, Jeter doesn't collect much memorabilia, but there is an exception. Jeter has a large, framed picture of Rizzuto and Jeter walking off together after a ceremonial first pitch at Yankee Stadium. Of course, Rizzuto signed it for his friend.
"You always remember how people treat you, especially when you're young and coming up," Jeter said. "He always went out of his way."
Jeter stands 6'3″ tall and weighs about 195 lb. Rizzuto was 5'6″ and about 150 lb. Jeter never ceased to be amazed that Rizzuto was so great and yet so "small."
"The thing with him that I found amazing was how small he was," Jeter said. "I used to joke with him a little bit. It just goes to show that you don't have to be big, size-wise, in order to be successful."
It was Billy Hitchcock, one of Rizzuto's minor league teammates, that gave him his nickname, at least according to Rizzuto. Others credit it to the real "Voice of the Yankees", Mel Allen.
Rizzuto was a loyal Yankee, but he was an even more loyal teammate.
On the day of Mickey Mantle's funeral, the Yankees told him that he was needed to broadcast the Yankees' game against the Boston Red Sox at Fenway Park. When he said that they had to understand why he had to attend, the Yankees still refused.
In the middle of the game, Phil Rizzuto, all 5'6″ of him, got up, left the broadcasting booth in the middle of the game and said that he could not continue as a Yankees' broadcaster.
He actually resigned in the middle of a game because he was so hurt.
He watched the services on television from the booth. "I took it hard and knew I made a big mistake," he said later. "I got more upset as the game went on and left in the fifth. They tried to drag me back, but I wouldn't."
No sports teams have had two more loyal players than Phil Rizzuto and Derek Jeter, but both understand that their family comes first, their teammates come second and the Yankees are third.
Read more New York Yankees news on BleacherReport.com