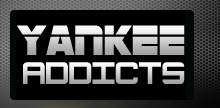 November 9, 2010 · Dan Hanzus · Jump to comments
Article Source: Bleacher Report - New York Yankees
For the first time since he was 18 years old, Derek Jeter is not associated with the New York Yankees.
When the clock struck midnight on Saturday, New York's exclusive window to negotiate with its shortstop officially closed, making Jeter an unrestricted free agent free to sign with any of Major League Baseball's 30 teams. It may only last a few days, or perhaps weeks, but for now, Mr. November is Mr. Unemployed.
Despite the lack of drama — it's widely believed Jeter's return to the Yankee fold is a foregone conclusion — this has become a substantial national story.
That's not all that surprising when you think about it. We're talking about the captain of the Yankees after all, a star of Seinfeld, and a bachelor prolific enough to rightfully claim, "I got Mariah when she was hot." Newspapers and websites looking for content to drive readership will always gravitate toward a a figure of Jeter's magnetism.
It's the same reason Brett Favre sits at the nexus of the sports universe year after year (after year). People care, even if they say they don't.
So no, the publicity surrounding Jeter's unsettled employment status isn't much of a shocker to me. The condescending nature of so much of the coverage is a different matter, however.
"Derek Jeter is going to be paid Ryan Howard money for putting up Marco Scutaro numbers."
That's how ESPN New York's Wallace Matthews began his report Monday under the headline, "Source: Yanks will overpay Derek Jeter". Matthews, whose been covering the Gotham sports scene way too long not to know better, simplistically painted Jeter as a player worth nothing more than his twilight statline.
I use Matthews as an example because the tone of his open is similar to how many in the media have covered this story. The angle isn't so much about when and if Jeter will re-sign, but rather how much the Yankees will end up overpaying for this old man who can no longer hit, field, run, or (I'm guessing) bathe himself.
As I've written before, being a Yankee fan comes with an unwritten set of ground rules. For every fan you meet who loves the team as unrequitedly as you, there are three others who despise that same team with every fiber of their being.
As a fan, you can let it bother you and thus negatively effect your fandom, or you can understand where the animosity comes from and simply brush it off.
(Aside: There's also a third option, where you embrace the hatred and feed off it like a "Ravishing" Rick Rude-level wrestling bad guy. This can be fun, especially if you a) have been been drinking or b) go to a Boston-area college. The downside of this option is that it's very easy to come off as a huge, unlikable dick. Slippery slope there. P.S. If you have a Yankee tattoo, you definitely fall under this category.)
The anti-Yankee movement has picked up serious steam in the 2000s, as the YES Network and a $1.6 billion stadium have turned the New York Yankees from a baseball team into a very literal business empire. An evil one, even.
None of that should have anything to do with Jeter, whose been an ambassador to the sport, all while displaying a level of dignity almost unheard of in the modern athlete. I naively expected Jeter to be immune from the guzzling of the Yankee Haterade. That seems pretty foolish in retrospect.
Like I said, you can let it bother you or you can brush it off. I suppose I'm doing a little of both here. But be warned haters: I'm thisclose to getting my "Million Dollar Man" Ted DiBiase on.
Dan Hanzus writes three columns a week on his New York Yankees blog, River & Sunset. He can be reached at dhanzus@gmail.com. Follow Dan on Twitter @danhanzus.
Read more New York Yankees news on BleacherReport.com