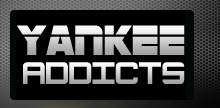 January 17, 2013 · Alex Kay · Jump to comments
Article Source: Bleacher Report - New York Yankees
Derek Jeter may be 38 years old, but the New York Yankees shortstop doesn't look any closer to calling it quits on one the greatest careers in MLB history.
According to Marc Carig of Newsday, Jeter is already cleared to participate in baseball activities—although he doesn't plan to begin until later in the month.
Jeter says he's cleared for baseball activity but he said he doesn't typically begin them until later in the month.

— Marc Carig (@MarcCarig) January 17, 2013
It's a miraculous recovery for a player who is just three months removed from a traumatic injury and extensive surgery.
The superstar infamously broke his left ankle back in mid October—in the 12th inning of Game 1 of the 2012 ALCS against the Detroit Tigers, to be precise—ending his season and the Yanks' dream of winning the World Series.
It was initially suspected that the surgery he underwent would require four to five months of rehabilitation, but it seems that the captain is well ahead of that schedule.
As per an Associated Press report (via ESPN), Jeter confirmed he is targeting Open Day—April 1 against the Red Sox—to return the Yankees lineup and noted that his "leg is good."
In response to critics that claim the Bronx Bombers are too advanced in age to compete, the 13-time All-Star questioned:
Too old or experienced? I'm pretty sure we'll be competitive, and be right where we need to be.
If anyone knows the value of an aging veteran, it's Jeter himself. The 17-year veteran had a fine season in 2012; batting .316, smacking 15 homers and driving in 58 RBI while helping lead the Yanks to a 95-67 record (best in the American League).
The team will certainly need Jeter in the lineup if they are going to earn a top seed in the AL once again this year. It seems that—barring a setback—the captain will be good to go right around the beginning of the season.
Read more New York Yankees news on BleacherReport.com