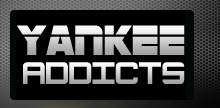 News published by
August 26, 2013
Derek Jeter is returning to the New York Yankees lineup for the third time this season. The Bronx Bombers have penciled in their captain to start at shortstop in Monday night's ...
July 28, 2013
The New York Yankees received a big boost for Sunday's contest against the Tampa Bay Rays, as Derek Jeter returned to the lineup. The captain batted second and was out on ...
February 28, 2013
Mariano Rivera is well on his way to returning for the 2013 MLB season, as the New York Yankees reliever pitched an inning in a simulated contest Thursday morning. According ...
January 17, 2013
Derek Jeter may be 38 years old, but the New York Yankees shortstop doesn't look any closer to calling it quits on one the greatest careers in MLB history. According ...
July 9, 2011
Derek Jeter recorded his 3000 hit today in style, blasting a solo shot out of the park to tie the game up. The long awaited milestone finally culminated in Yankee ...