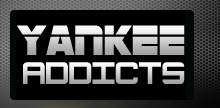 June 3, 2009 · Perry Arnold · Jump to comments
Article Source: Bleacher Report - New York Yankees
Derek Jeter will turn 35 years old this month.
He is playing in his 15th season in the Bronx (although his first year in 1995 saw him in very few games).
It appears the Yankee shortstop is finally healthy. In each of the past several years he had nagging injuries bothering him.
In 2003, he suffered the worst injury of his career when he separated his shoulder sliding into third against Toronto in an April game.
Since that time he had several hand injuries and leg problems that put him on the DL in 2008.
Jeter has continued to play hard, but some critics, not recognizing that he played hurt, have seen a decline and have written him off. Some even suggested that he had to switch positions in the very near future.
But through the first 52 games on the Yankees schedule Jeter is hitting .319 with 68 hits.
After last night's game, in which he got three more hits, he is on pace to gather 212 hits in the season.
Jeter has actually only played in 50 games, as he had to sit with a strained oblique muscle a few weeks ago.
But when he is at full health, he has shown that he is still strong, still a force in the game, and one of the greatest clutch performers of his generation.
Much of the criticism of Jeter has been with his defense. After all, no one could find much to criticise regarding his offense.
But this year, he has been very good in the field. He is moving better than he has in recent years.
Jeter also seems to have taken to heart advice from Cal Ripken, Jr. that he has to be more concerned about positioning than living on sheer physical skill.
And he has shown a more accurate arm than expected after the last few years.
He also seems to be running better than in the last couple of years.
With the performance Jeter is currently providing, critics will have to be quiet and there is no reason to expect any move by the Yankee captain any time in the near future.
Jeter's current contract runs through the 2010 season when he will be 36. Brian Cashman, the Yankee General Manager, should seriously consider sitting down with Jeter and his agent right now and re-signing the future Hall of Fame player to a new contract that will carry him into his 40s.