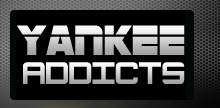 February 25, 2010 · Adam Bernacchio · Jump to comments
Article Source: Bleacher Report - New York Yankees
Only the weeks leading up to the Super Bowl rival spring training in terms of useless news and information. During the weeks leading up to the Super Bowl, we hear stories like X player reads the Harry Potter books or Y player eats four egg whites and two slices of whole wheat toast before every game.
When it comes to spring training, we hear stories like X player is in the best shape of his life. How many times have we heard that story this spring? I even read a story this morning that a catcher plans on using a bigger glove this season.
Fascinating stuff.
Jeter will never leave the Yankees. Period.
But there is one story that seems to be garnering national headlines and I really can't figure out why. It's the topic of New York Yankees' shortstop and captain Derek Jeter and his contract.
I really couldn't believe that Jeter was on the back of every major New York newspaper today. Can someone explain to me what the story is here? He is going to re-sign with the Yankees. We all know this.
Does anyone honestly think the team with the most money in baseball is really going to let the face of their franchise walk? You will have a better chance of seeing the following than the Yankees letting Jeter leave as a free agent:
Me playing shortstop for the Yankees in 2011.
My sister explaining me to me what FIP and UZR mean.
The New York Mets properly diagnosing an injury.
Mike Francesa admitting he is wrong about something.
Shaquille O'Neal leading the NBA in free-throw percentage.
Ron Jeremy on Jeopardy.
Milwaukee, WI becoming the entertainment capital of the United States.
Ric Flair and Hulk Hogan leaving wrestling for good.
Gary Bettman putting an NHL franchise in a relevant city.
As you can see, there is no chance of Jeter leaving the Yankees after this season. So let's not talk about his contract anymore.
It's a non-issue.
You can follow The Ghost of Moonlight Graham on Twitter @ theghostofmlg
Read more New York Yankees news on BleacherReport.com