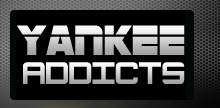 February 12, 2010 · Perry Arnold · Jump to comments
Article Source: Bleacher Report - New York Yankees
There are many reasons the New York Yankees should drop their policy of not re-negotiating contracts and sign Derek Jeter to a long-term deal now.
Jeter is the Yankee captain.
He is the icon, the face of the New York Yankees.
He has been the key figure in bringing five World Series trophies home to Yankee Stadium.
He gave the Farewell Address in Old Yankee Stadium and made certain the ghosts crossed the street to the Palace.
His girlfriend, Minka Kelly, by her mere presence in Jeter's box, raises the beauty quotient in the Bronx by 50 percent.
He puts butts in the seats and sells Yankee merchandise.
All these are intangibles.
But there are tangible reasons that the deal should be done now.
Jeter finished the 2009 season with a batting average of .334, with 207 hits, 107 runs scored and an OPS+ of 132.
Over the past six seasons, Jeter has averaged .316 and has an average OPS+ of 121. In only one of those seasons has he finished with a batting average below .300.
In those six years, he also has 1201 hits.
Jeter finished 2009 with a total of 2747 hits and passed the immortal Lou Gehrig as the Yankee with more base hits than anyone else.
Barring serious injury, sometime in 2011 Derek Jeter will join the Pantheon of those players with 3000 hits.
It is unimaginable that he could possible do that in a home stadium other than at 161st Street and River Avenue or in a uniform that does not have midnight blue pinstripes.
At his current pace, Jeter would have to play until he is 42 to have a reasonable shot at 4000 hits. And as he gets older he will not maintain his current pace of 200 hits every year.
But he does have a shot at being only the third player in the history of baseball to accumulate 4000 hits.
When a player is exceptional, and no one can seriously argue that Jeter is not one of the most exceptional to ever play the game, exceptions should be made for the player.
No one can seriously doubt that the Steinbrenner Family and Brian Cashman will empty the bank vault to keep Jeter in pinstripes.
But when no one doubts that, why leave the matter open for discussion.
Sign him now. Sign him long term and make certain that the team, the city and the fans will be able to enjoy many more milestones put up by Derek Jeter.
Read more New York Yankees news on BleacherReport.com