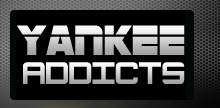 April 24, 2009 · Perry Arnold · Jump to comments
Article Source: Bleacher Report - New York Yankees
Boston Red Sox designated hitter David Ortiz was quoted Thursday as warning New York Yankees pitcher Joba Chamberlain not to throw at Boston's Kevin Youkilis and to play the game the right way.
Is Big Papi serious? A Red Sox player is telling a Yankee pitcher not to throw at hitters?
Give me a break!
Papi needs to take the reflective shades off and look in the mirror. Or better still, look at the history of Red Sox pitchers plunking Yankees.
In other words, as the old saying goes, Papi's warning is the pot calling the kettle black.
For most of the last decade it has been Boston pitchers who have been headhunting and Yankee pitchers who have not been allowed to stand up for their teammates.
Yankee fans who have watched this rivalry closely clearly remember Yankee stars being hit over and over again.
Alex Rodriguez has been hit. Derek Jeter has been hit. Bobby Abreu has been hit.
In one game in 2003 Jeter was hit in the hand, and in the same inning Alfonso Soriano was hit in the hand or arm.
And as long as Joe Torre was the Yankee manager, he would not allow his pitchers to fight back.
It would have been one thing if the umpires had given warnings that would have resulted in automatic ejections for the pitcher and manager. But in case after case, when no warning had been given, Yankee pitchers would not throw high and tight.
Who can forget the game when Pedro Martinez hit A-Rod, and Sox catcher Jason Varitek followed Alex down the first base line and ended up sticking his mitt in A-Rod's face, setting off a bench-clearing brawl.
Later Martinez could be seen pointing to his head and gesturing at Yankee catcher Jorge Posada, indicating he would hurt Posada in the head next.
As I remember the game, a Yankee pitcher threw a little too close to Manny Ramirez but did not hit him.
Ramirez took exception, and the benches cleared again.
Don Zimmer, the Yankees' bench coach, who was well over 70 years old, went after Martinez.
The young Boston pitcher, in prime condition, took the old man by his bald head and threw him forcefully to the ground.
In 2007, when Joba Chamberlain was a rookie, he came in to pitch against the Sox at Yankee Stadium.
Joba was known for very good control. But when Kevin Youkilis came to the plate, Joba unloosed an errant throw that sailed about two feet over Youkilis' head.
Youkilis dug in again, and Joba fired another pitch. This one was also well over the head of the Red Sox player.
The home plate umpire immediately threw Joba out of the game, and the kid stood on the mound making a gesture indicating he could not understand being tossed.
Frankly, many of us watching that game couldn't understand it either when no earlier warnings had been issued and no one had been hit.
Last season Joba once again threw high and tight to Youkilis, this time actually coming close to his head, as neither of the throws had in his rookie year had.
Youkilis, still not hit, took umbrage at Joba's attempt at barbering.
And now Big Papi has placed himself hypocritically in the mix.
I'm an older fan, and I remember when a pitcher knocking a hitter on his butt was not uncommon and not much was said about it.
If a hitter knocked one out on you, you dusted him the next time he came to the plate.
And if a hitter, say Manny Ramirez, hit one out and stood at the plate and admired his work with both arms extended in the air after he had dropped the bat, the pitcher knew Ramirez was showing him up.
Next time Ramirez came to the plate, no matter who the pitcher was then, Ramirez could expect to get one in the middle of the back or in his left ear.
Back then, all the pitchers in both leagues had to bat. And the pitcher knew that if he had thrown at someone, his turn would come. He knew he was going to get dusted when he came to the plate.
Now the league has apparently mandated that umpires not allow hitters to be intimidated. There are quick warnings and sometimes quick ejections, as with Joba, if an umpire even thinks a pitcher was aiming at a batter.
The game has changed, and I am not so sure it is for the better.
The game may have been better when there was a pitcher named Sal Maglie who was called "The Barber" because everyone knew not to dig in on him.
There is too much showboating by hitters these days. There is too much emphasis on pitchers throwing high and tight.
And for right now, there is too much hypocrisy in David Ortiz warning Joba not to throw at his teammate when Ortiz's teammates have been throwing at Yankees for way too long with no retribution.