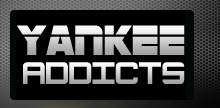 April 27, 2009 · Perry Arnold · Jump to comments
Article Source: Bleacher Report - New York Yankees
David Ortiz finished last night's game hitting .222.
But he has a lot to smile about.
His Red Sox completed a three game sweep of their hated rivals, the New York Yankees.
And more than that, Boston humiliated New York.
The first game was 5-4 and the Yankees should have won.
The second game was a fiasco ending with a 16-11 Boston win.
And the final score in the final game was 4-1, but it wasn't that close.
Boston dominated this series and it all started with David Ortiz warning Yankee starter, Joba Chamberlain not to throw at Kevin Youkilis.
Ortiz's warning seemed to put the Yankees back on their heels and they never got their balance again.
Instead of establishing his dominance by taking the inside of the plate, Chamberlain tried to nip the corners and found himself in trouble throughout the game.
Only double plays, which seemed to come once every inning for Joba, kept him in the game until the sixth inning.
Even then, there seemed to be something wrong with the Yankees.
But they were ahead 4-2 in the eighth inning and rookie, Jonathon Albaladejo was pitching very well in relief. He had two outs in the eighth inning and threw a first pitch strike to what was figured to be his last hitter. If he got out of the eighth everyone knew Yankee closer Mariano Rivera would be in to pitch the ninth.
Then with the count no balls and one strike Yankee manager made a trip to the mound. Yankee announcer, Michael Kay, was confused and thought at first that Yankees' Manager, Joe Girardi, was going to signal for left hand reliever, Damaso Marte to come in and get the out on lefty hitting J.D. Drew.
But instead Girardi raised his right arm signaling for Rivera. No one could figure this out.
It just seemed an example of how the Yankees came into Fenway afraid to play their game.
Rivera was supposed to be saved to close out the game in the ninth. When had anyone heard of letting a pitcher get a one strike count on a hitter and then taking him out?
What must that have said to young Albaladejo who had pitched so well to that point? What will occupy his mind when he is in the game in another crucial situation? Will he be looking at the bench to see if Girardi is coming with the hook?
Mo got Drew to end the eighth and got two outs in the ninth before Jason Bay hit a two run homer to tie the game.
In the eleventh inning, the game was still tied at 4-4 and lefty Damaso Marte was pitching his second inning.
With one out Yankee killer, Kevin Youkilis came to the plate. On deck stood lefty J. D. Drew.
Marte was acquired from Pittsburgh last year as a lefty specialist, the plan being that he would come in to games to get out a big left handed threat.
Youkilis is the hottest hitter in baseball, hitting .429 when the game started with an OBP of more than .500.
The only smart move would have been to walk Youkilis, let Marte pitch to Drew who was hitting under .270.
But Girardi let Marte pitch to Youkilis who parked one on Landsdowne Street to end the game.
From that point on the Yankees were in trouble and it was obvious.
In the third inning of the final game Jacoby Ellsbury stole second base and virtually stole third when he took a very long lead off second as the ball was hit to new Yankee third baseman, Angel Berroa.
Berroa fielded the grounder, took a long look at Ellsbury, at least 20 feet off second, and threw wild to first. Mark Teixeira could not field the low throw and Ellsbury went to third easily where he would score on a David Ortiz sacrifice fly to left.
Later in the game the Sox loaded the bases with Ellsbury on third. Yankee starter, Andy Pettitte had been effective throughout the game, but now with the score tied 1-1 he was in a jam.
With the sacks loaded Pettitte went to the windup with left handed hitting Drew at the plate again.
ESPN announcers pointed out that the Sox had a plan for just this situation.
The fleet footed Ellsbury had been coached to look for the perfect situation and the Yankees set him up.
Berroa was playing third base much as a rover in softball would about 45 feet off the line and at the edge of the outfield grass. With Berroa that far away, Ellsbury could take as large a lead as he wanted.
Pettitte went into a full wind up and Ellsbury broke for home. Drew backed out of the box as the pitch was on the way.
Without explanation, Yankee catcher, Jorge Posada did not step forward to receive the pitch and block the plate. He waited for the pitch to cross the plate and by that time he had no chance to get Ellsbury who slid home with the successful steal.
Once again the Yankees looked unaware and off balance.
David Ortiz sent a message on Thursday warning Chamberlain to "play the game the way its supposed to be played."
He was telling Joba not to throw at hitters. But he was also setting his team up by putting the Yankees off balance.
All weekend long Boston played the game the way it was supposed to be played.
They out thought New York. They out hit New York. They played with enthusiasm and guts.
The Yankees played off balance all weekend long and David Ortiz certainly has a lot to smile about.
Next time Ortiz talks people better wonder what his ulterior motives are.