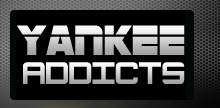 April 12, 2010 · Bronx Baseball Daily · Jump to comments
Article Source: Bleacher Report - New York Yankees
Entering spring training it was generally regarded that Ramiro Pena had the inside track to win the Yankees' utility infielder position.
But despite the experience he received in 2009, it was hardly a given that the job was his because the Yankees had three other possibilities on their 40-man roster—Reegie Corona, Eduardo Nunez, and Kevin Russo.
All four are nearly major league ready, and even though the Yankees went with Pena they easily could have picked any of them.
Corona was probably the least likely just because he is so similar to Pena and his glove is just a tick below Pena's. Nunez and Russo don't have Pena's glove, but Pena can't touch their bats. It leaves the Yankees with an interesting question for the future.
But one thing is certain: None of these players are going to get a legit shot at a starting infield job without a major injury because of Alex Rodriguez, Derek Jeter, and Mark Teixeira. Even Robinson Cano seems to have a lot of job security. He is 27 years old, just entering his prime, batting No. 5 for the Yankees, and has batting title and Gold Glove potential. He might start getting expensive, but you don't just trade away somebody with that potential.
So what are the Yankees going to do when they need to promote David Adams, who is hitting .500 so far this season?
Adams, 22, is the starting second baseman for the Double-A Trenton Thunder. He's not going to be able to keep up his .500 batting average for long, but if he continues to hit at the Double-A level at some point the Yankees are going to have to promote him.
Just look at what he's done through four games: 16 at-bats, eight hits, four runs, three doubles, one homer, five RBI, zero walks, two strikeouts, and a 1.250 OPS.
Like I said, it's impossible for him to keep up those numbers, but based on early returns he's handled the jump from A to AA, often thought of as the hardest leap in the minors, with relative ease.
If he keeps it up a promotion will be necessary.
So what do you do? The Yankees have to make a trade and they're going to have to involve at least one, if not two, of their infielders currently on the 40-man roster (that includes Juan Miranda) in this deal. Hopefully it is not Adams himself that they are trading away because he seems like he's got real potential.
Brief Scouting Report on Adams
Adams is a thick second baseman who has always been compared to Jeff Kent body-wise.
He's strong defensively, but nothing spectacular. He has above average pop in his bat for a second baseman. Twenty home runs a year is not out of the question for this kid. He's also focused on hitting for average as he hit .286 across two levels in the minors last year.
With all of that his most impressive skill might be his base running, where he is very aggressive, but smart. He's definitely not a 20-plus stolen base guy, but he will never be considered a bad base runner and will not be a station to station type guy.
This is a good problem for the Yankees to have, but one that is going to need a solution sooner rather than later. Maybe the solution is to move Adams to the outfield, but then he'd really have to focus on his power to still be considered a strong prospect. Maybe the solution is to move Cano to the outfield, but then you think about the way he turns the double-play and you think that is unlikely.
The Yankees can put off those decisions until 2011.
For right now, though, they just have to identify which of their four infielders on the 40-man roster, Pena, Corona, Nunez, and Russo is a AAAA player and try to find somebody who is interested in trading for them.
Related Stories
Read more New York Yankees news on BleacherReport.com