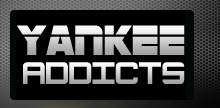 March 7, 2010 · Bronx Baseball Daily · Jump to comments
Article Source: Bleacher Report - New York Yankees
In an article in the Bergin Record, columnist Bob Klapisch asked former Yankee Darryl Strawberry who he thought would win in a series, the '86 Mets or the '09 Yankees. Here is a small part of the article:
1986 Mets vs. 2009 Yankees? "Doc would've destroyed them. We would've beaten them. They're a great team, but we wouldn't have been intimidated. We could hit, we could pitch and we could definitely fight."

Strawberry meant no disrespect toward the Bombers, to whom he owes the second half of his career. And to be technical about it, Darryl knows the '86 Gooden wasn't nearly as overpowering as the '85 edition, which skews his prediction. But it's all part of a harmless journey into the past. All you have to do is ask him.
If you know anything about the '86 Mets then you would know that there is no other possible answer but one of extreme confidence that the '86 team could conquer all. They were not only winners, but they were extremely confident and cocky to the point where it would anger teams and the would then make it their business to knock them off. Which made them winning the '86 World Series even more impressive.
But could they really beat the 2009 Yankees?
Maybe, but like Klapisch said Gooden in '86 was not at his peak and the '09 version of CC Sabathia was.
25-year-old Ron Darling and 23-year-old Sid Fernandez were already elite pitchers and veteran Bobby Ojeda was at the top of his game.
So even as good as the 2009 Yankees pitching staff was, the '86 Mets had a deeper rotation. The Yankees might have had the edge in the bullpen though, but relievers Roger McDowell and Jesse Orosco did have potential to be pretty strong match-ups.
The equalizer, and spot which could have put the Yankees over the top, would have been the lineups. The Yankees were strong 1-9 and had a strong bench.
Meanwhile the Mets had a weak link in their lineup at shortstop thanks to Rafael Santana and his putrid .539 OPS. Althought to write off the Mets lineup, and bench for that matter, would be foolish.
So could the 2009 Yankees beat the 1986 Mets? It's nearly impossible to say. The only thing I would say, is that I like the 2010 Yankees chances better than the 1987 Mets.
Most Commented Posts
Read more New York Yankees news on BleacherReport.com