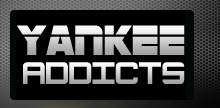 March 25, 2010 · Bronx Baseball Daily · Jump to comments
Article Source: Bleacher Report - New York Yankees
The Yankees drafted Christian Garcia in 2004 and by the end of that summer the third round pick was already making a name for himself thanks to a mid-90's fastball and the makings of a nasty curveball.
He started out quickly out of the gate, his stuff was raw, but he showed a lot of promise. In 2004 he was able to harness it while putting up a 2.84 ERA and 47 strikeouts in just 38 innings.
In his next season, things didn't go quite as well. He had just a 3.94 ERA although he did manage 110 strikeouts in 112 innings, but at the time it was about becoming a more polished product and not so much about the numbers. By 2005 he was a bright spot in an otherwise shallow farm system.
The problems started in 2006. That year injuries held Garcia to just 53 innings and it cost him the entire 2007 season.
He managed to pitch in 2008, but he still dealt with lingering injuries and only managed 62.1 innings. Last season looked like Garcia might actually get a chance to pitch as he was supposed to be healthy, but after just 25.1 innings Garcia admitted that he was pitching with pain, and his season was over.
There has already been a scare this season, but despite that he seems healthy, is on the mound, and has been very impressive. In fact, after just about three years of rehab he is possibly better than ever. Spending so much time coming back from injury he's had a lot of time to work on and develop a plus changeup.
Here is a bit from AOL Fan House's Frankie Piliere after Garcia's latest performance:
"Garcia came out of the gate locating and pounding the strike zone with a heavy, 90-92 mph fastball. By the end of his four-inning stint, he was living around 92-93 mph and reaching 94 on a couple of high fastballs. He has some deception in his delivery, hiding the ball well and coming right over the top, creating excellent downward plane.
When he was at his healthiest, Garcia could consistently get it up into the mid-90s with good movement, and it looks like we are slowly seeing that come back.
As it sits, he has plus velocity and plus movement, so if his arm strength does continue to improve as he gets some innings under his belt, then he could become an ever scarier proposition for hitters.
He's plenty scary right now though, and he has a lot more going for him than just his fastball. Garcia is a complete, three-pitch pitcher, and that is with three plus pitches. I don't like to throw around plus grades often, so to see a pitcher with three plus pitches is a real rarity. It's never been about stuff with this big right-hander; it's always been about his health.
Garcia's signature pitch is his hammer curveball at 79-82 mph. The best comparison for his breaking ball is A.J. Burnett's. Like Burnett's curveball, his action is late and very tight. As Jayson Werth learned on Wednesday, working out with the Phillies' Double-A squad, Garcia has the type of curveball that's close to unhittable even if you are expecting it in an 0-2 count.
Werth struck out swinging twice against Garcia, both on breaking balls following high fastballs that he also swung through. His curveball grades out easily as a seven pitch on the 2-8 scale. He made a lot of good hitters look lost on Wednesday, and he's going to produce a lot of swings and misses at the next level if he keeps spinning it with that type of command and action.
The arsenal doesn't end there. Garcia also showed off a plus changeup at 80-83 mph, which he was able to use very consistently against left-handed hitters. Also very impressive were the swings and misses he got with this pitch. You don't often see that with a pitcher that could easily just rely on his devastating breaking ball. His changeup grades out as a 6 on the 2-8 scale.
Consider the arsenal Garcia showed off on Wednesday. His plus fastball with good movement produces a huge amount of groundballs and broken bats. His curveball is an elite, swing-and-miss type pitch. And, he has a changeup he can locate with excellent consistency with a 10-14 mph differential from his fastball.
The main complaint about the Yankees farm system from a pitching perspective is that they lack a hurler with frontline upside in the upper levels of their system. If Garcia is on the field and throwing like he did on Wednesday, that won't be the case for long."
That's about as glowing a review I've ever read from Piliere. The problem is—can he stay healthy? The answer for almost four years has been "no" and four years might as well be a lifetime when it comes to prospects. He's probably spent more time on the DL or rehabbing an injury than he has been healthy and on a mound.
So the answer is, I'll believe it when I see it. If Garcia is healthy he is certainly somebody to be excited about. If he is healthy he could be an impact pitcher for the Yankees as soon as this year.
That's if he is healthy, and like I said, I'll believe it when I see it.
Related Stories
Read more New York Yankees news on BleacherReport.com