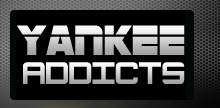 September 16, 2010 · Double G Sports · Jump to comments
Article Source: Bleacher Report - New York Yankees
Making his first start in nine days, Phil Hughes was dominant for four innings. Perfect actually. He wouldn't be perfect on this night. In fact, he wouldn't even get his team a victory, thanks to Dan Johnson.
The Rays designated hitter who spent last season playing in Japan needed two swings to carry his team to their second win in three games against the Yankees.
Third baseman Evan Longoria led off the fifth with a single off Hughes. Two batters later, the Yankees starter made his first mistake. Johnson belted a two-run home run to give the Rays a 2-1 lead.
The Yankees would fight back after an acting session by shortstop Derek Jeter. Rays' reliever Chad Qualls threw a pitch. All you saw at first was Jeter immediately grab for his wrist and appear to be in severe pain. The Yankees' captain was quickly checked out by manager Joe Girardi and trainer Gene Monahan.
The next batter, Curtis Granderson, drilled a two-run homer of his own to put the Yankees ahead by a score of 3-2. Replays showed the pitch to Jeter never touched him. The ball hit directly off the knob of the bat. So, at this point, the acting job by Derek Jeter allowed the Yankees to take the lead.
Phil Hughes would come back out for the seventh inning. Since he looked so dominant outside of that one pitch to Johnson, it was hard to argue with Girardi's decision to leave his young starter in the game.
Continue reading this article at Double G Sports.
Read more New York Yankees news on BleacherReport.com