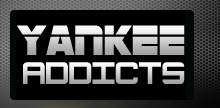 April 8, 2010 · Colin Krouse · Jump to comments
Article Source: Bleacher Report - New York Yankees
Welcome to the 13th edition of "Daily Random Sports Thoughts!"
Although that "Daily" part kind of flew out the window…
But anyways, we're back!
For those not familiar, I pick a team, player, or any other topic in sports that I have five random thoughts about. If you like 'em, read 'em! I try to get them on here every day!
Today's lucky random sports topic is…(drum roll)…Brett Gardner! (Imagine that there's confetti or something raining down now)
1) Great start! Three for nine with no strikeouts! No strikeouts! And the best part: NO STRIKEOUTS!
2) Two stolen bases as well! Hopefully he can tear up the base paths this season!
3) Gardner also went one for two with an 0-2 count! An improvement since the past World Series, when he seemed frozen at the plate.
4) Hopefully Gardy can play like this for the entire season. If he can produce, the Yankees will have a very dangerous outfield.
5) NO STRIKEOUTS!
So thanks for reading "Daily Random Sports Thoughts!" Good luck in 2010, Gardy!!!
Read more New York Yankees news on BleacherReport.com