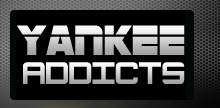 March 24, 2010 · Bronx Baseball Daily · Jump to comments
Article Source: Bleacher Report - New York Yankees
The Yankees are expected to announce this morning that Curtis Granderson will indeed become their starting center fielder and will not play much left field, if at all, according to Joel Sherman of the NY Post.
Granderson roamed center field in all his years with the Detroit Tigers, but there was speculation that the Yankees would move him to left field after general manager Brian Cashman made the claim that Brett Gardner might be the best defensive center fielder in all of baseball.
On top of that, there were rumblings that Granderson's defense had dropped off, so the Yankees had come into spring training with an open mind toward which player would play the outfield pivot. They've tried both players in left and center field this spring and have been satisfied with Granderson's defense to this point.
Ultimately the Yankees are likely going with Granderson in center field because it fits better with their long-term plans, which include trying to sign left fielder Carl Crawford next offseason. This way the Yankees aren't moving Granderson to left only to move him back to center field a year from now.
Sherman is also reporting that part of this decision comes down to the comfort of Granderson. As their biggest acquisition of the offseason, I suppose it is important to allow him to adapt quickly.
If he were playing left field, not only would he be forced to learn a new position, but he would also be forced to deal with constant media questions about the switch. Now he's only going to have to deal with the media if he makes a couple of bad plays in the field and Gardner looks especially good.
Related Stories
Read more New York Yankees news on BleacherReport.com