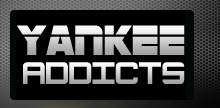 January 3, 2013 · Zachary D. Rymer · Jump to comments
Article Source: Bleacher Report - New York Yankees
It's pretty clear that the New York Yankees aren't going to make any big upgrades in free agency. They're looking to go cheap in 2014, and their options are very thin at this point anyway.
But what about a blockbuster trade for somebody like, say, Arizona Diamondbacks right fielder Justin Upton or Miami Marlins right fielder Giancarlo Stanton?
Either one of them might (emphasis on "might") be had at the right price. The trouble for the Yankees is that the "right price" in this case means giving up a huge package of young players, and that's something they don't have the capacity to do. Also, they may not have the willingness.
Just so we're all on the same page, we know that Upton can be had thanks to ESPN's Buster Olney:
Arizona very much open again to talking about trading Justin Upton w/other teams, and not surprisingly, their specific demands have changed.

— Buster Olney (@Buster_ESPN) January 3, 2013
And we know that Stanton could be had thanks to Jim Bowden of ESPN and SiriusXM:
Dan Jennings Marlins AGM told us they will listen to all offers on Giancarlo Stanton but they're not shopping him and don't want to move him

— JIM BOWDEN (@JimBowdenESPNxm) December 30, 2012
There's a disclaimer on the Stanton rumor. The Marlins may be willing to listen to offers for him, but Ken Rosenthal of FoxSports.com has heard from a source that the chances of Stanton being moved are "as close to zero as they can be."
All the same, you can rest assured that Brian Cashman has given the Marlins a call about Stanton. Mark Feinsand of the New York Daily News wrote back in November that the Yankees could be involved on Upton this winter, so Cashman has probably also given the D-Backs a call to see what these new "specific demands" are all about.
My own belief is probably the same as yours: That neither Upton nor Stanton will be coming to the Yankees this winter. The Yankees dealing for either one of them is about as unrealistic as it gets.
The problem with Upton is that the D-Backs are looking to win now, so it's unlikely that they'll move him for players who can't be plugged in and used right away. He'll only be moved for major league players and/or major league-ready players.
The Yankees are short on both. The valuable assets in their farm system are at the lower levels, and their major league roster is littered with bad contracts, geezers and geezers with bad contracts.
A quick scan of the Yankees' roster for young, controllable players who could be dangled for Upton turns up only a handful of names: Eduardo Nunez, Ivan Nova, David Phelps and Adam Warren.
If the Diamondbacks are going to deal Upton, they can do better than what the Yankees have. The Yankees' only hope would be that the D-Backs would accept several of their best young prospects. And even then they'd have to hope that nobody came along with a better offer.
The Marlins are in the middle of what looks to be a long rebuilding phase, so they're more likely to take a big basket of prospects in a trade for Stanton. Danny Knobler of CBSSports.com has heard that it would take three "very top level" prospects and a couple of other players to get the job done.
For the Yankees, that would mean three members of their talented minor league foursome—catcher Gary Sanchez and outfielders Mason Williams, Tyler Austin and Slade Heathcott—and probably a couple of players the Marlins could use right away. That means Nunez, Nova, Phelps and/or Warren.
If that package proved to be insufficient to get the job done, the Yankees could try to sweeten it with a reclamation project, such as either Manny Banuelos or Dellin Betances, or maybe Michael Pineda.
Long story short: If Stanton were to come to the Yankees, whatever promising young talent the club has would vanish. And this is assuming, of course, that somebody else with a better farm system (i.e., the Seattle Mariners or Texas Rangers) wouldn't come along with a better offer.
Given the circumstances, the Yankees would probably have to get a third and maybe even a fourth team involved in talks to land Upton or Stanton in a trade, as they don't really have the assets to do a one-on-one deal with the Diamondbacks or Marlins that another club couldn't top.
Remember when I wrote that the Yankees didn't have the "capacity" to pull off a trade for Upton or Stanton? Well, there you go.
As for the "willingness" to pull off a trade for either player, there are question marks there too because the short-term gains may not be worth the long-term nightmare.
The Yankees would indeed have a legit chance to do something special in 2013 if they were to acquire Upton or Stanton. Upton is inconsistent, but somewhere inside him are more seasons like the one he had in 2011 when he posted an .898 OPS, hit 31 homers and stole 21 bases.
Stanton, meanwhile, is the game's best young slugger, and he could easily realize his 50-homer potential if he were to be inserted into the Yankees' lineup, which is still pretty good.
But after 2013, things would look no more rosy than they do right now.
The Yankees would have a cheap superstar on their hands if they were to deal for Stanton and a moderately cheap star on their hands if they were to trade for Upton, but their plans to get their payroll under $189 million in 2014 would still be standing.
These plans would still have the potential to block the Yankees from retaining Robinson Cano, Curtis Granderson or Phil Hughes. Maybe even all three. If that were to happen, the Yankees would have a roster featuring one young star and a collection of crusty veterans.
One by one, these crusty veterans are going to start fading away. Andy Pettitte, Mariano Rivera and Hiroki Kuroda are sure to be goners after 2013. Derek Jeter and Ichiro Suzuki will be goners after 2014. By then, Alex Rodriguez may need a walker to get to first base.
Right now, it looks like the Yankees' plan is to use what young talent they have to flesh out their roster when it comes time to move on to a new era. If they deal for Upton or Stanton, they won't be able to carry out that plan.
Instead, it could be back to their old habits. The Yankees will have their luxury tax status reset if they're under $189 million in 2014, and that will be an excuse for them to start spending again.
But would they? They've been down that road and they know where it leads: to albatross contracts and high luxury tax payments. Plus, Hal Steinbrenner may still be too worried about his books to start acting like his late father.
Plus, there's the reality that the Yankees would have to pay to keep Upton or Stanton eventually. Upton's current deal runs through 2015, and Stanton is due to hit free agency after 2016. Between 2014 and 2016, he's due big raises in arbitration.
In the reality we live in right now, the Yankees are going to need young players they can fit in around their big contracts in the near future. In the Upton/Stanton reality, things would be largely the same. Their roster wouldn't be as littered with aging players as it is now, but it would still be loaded with heavy contracts that the Yankees would have to balance out with young, talented and cheap players.
With no (or very few) prospects waiting in the wings, the Yankees would basically have no choice but to start spending like crazy again to uphold their status as an AL East powerhouse. If so, they would do so begrudgingly. Again, they know where that road leads.
There's nothing that can kill the Yankees, but it's become apparent that they can certainly be badly wounded. All they've done this winter is put Band-Aids on the wounds they have, with the idea being to stay standing long enough until the cavalry arrives.
A deal for either Upton or Stanton would be a pretty good quick fix, but many of their same ailments would still be there and the cavalry would no longer be just around the bend.
So it goes for the Yankees these days. They've put themselves in a position where there really are no right answers.
Note: Stats courtesy of Baseball-Reference.com unless otherwise noted. Salary and contract information courtesy of Cot's Baseball Contracts.
If you want to talk baseball, hit me up on Twitter.
Read more New York Yankees news on BleacherReport.com