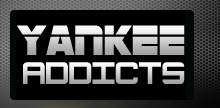 March 18, 2013 · Zachary D. Rymer · Jump to comments
Article Source: Bleacher Report - New York Yankees
When they signed Mark Teixeira as a free agent in December of 2008, the New York Yankees must have figured they weren't going to have to worry about first base for the next eight years.
Sure enough, here are the Yankees in 2013 worrying about their first base situation thanks to Teixeira's ailing right wrist. It could be just a matter of time before general manager Brian Cashman starts making some calls to see who's available.
If it comes to that, one of the calls he'll surely make will be to the Minnesota Twins, and the player on his radar will be none other than 2006 American League MVP Justin Morneau (a h/t is in order for B/R FC Doug Rush for proposing the idea first).
It all depends on what happens with Teixeira's wrist. The initial diagnosis was that he had suffered a mere strain in preparation for the World Baseball Classic, and the initial prognosis was that he would be out eight to 10 weeks. Since then, the situation has taken a turn for the worse.
According to Peter Botte of the New York Daily News, the latest word is that the injury Teixeira suffered was actually a partial tear of his tendon sheath, an injury similar to the one Jose Bautista suffered last July. He ultimately needed season-ending surgery, and Cashman said there's a 30 percent chance that Teixeira's own tendon sheath injury will require season-ending surgery.
If it comes to that, the Yankees won't want to remain committed to a Juan Rivera/Dan Johnson/Kevin Youkilis platoon at first base for the long haul, and they're going to have to do better than a retiree like Derrek Lee (who prefers to stay retired, thank you very much) as a ringer for Teixeira.
No, the Yankees would need somebody with the potential to at least come close to the production the club will have lost in 2013 if Teixeira goes under the knife. That's where Morneau enters the picture.
Thanks to a laundry list of injuries, Morneau is far removed from his stretch as one of baseball's best hitters between 2006 and 2009, when he compiled an .880 OPS and averaged 30 homers per year, but the Yankees should see some upside when they look at him. Morneau hit 19 homers in 134 games last year, and his .820 OPS on the road is a sign that he would do well if he escaped Target Field.
Yankee Stadium would be a perfect place for Morneau to escape to. He had a .922 OPS at the old Yankee Stadium, and he also won the 2008 Home Run Derby there. At the new Yankee Stadium, Morneau owns a 1.536 OPS. Evidently, his lefty pull power meshes well with short right-field porches.
So if I'm Cashman, I'm singling Morneau out as a guy who could step in for Teixeira and proceed to hit 30 homers, which is something that can't be said about any of his in-house replacements. In addition, I'm also singling Morneau out as a guy who could be had .
Morneau is heading into the final year of a six-year contract, and it's apparent that his partnership with the Twins is going to end this year one way or another. Roch Kubatko of MASNSports.com reported in December that the Twins were gauging trade interest in Morneau at the winter meetings, noting that they were "of course" looking for young pitching in return. The Twins will no doubt continue to monitor the trade market throughout 2013.
For his part, Morneau told Rhett Bollinger of MLB.com in February that the Twins hadn't approached him about an extension and that it's not something he's going to want on his mind once the season starts. With neither side pushing an extension, a trade feels inevitable.
The Twins could wait until the trade deadline to deal Morneau with the hope that a couple productive months will boost his value. The risk there is a couple of bad months, which could result in the Twins getting nothing for Morneau.
Avoiding this gamble by trading Morneau now isn't such a bad idea, as Morneau has hit well in spring training (.828 OPS) and was very productive in the World Baseball Classic with Team Canada. Per the WBC's official site, Morneau posted a 1.601 OPS in three games in the tournament.
So if Teixeira has to have surgery on his wrist and Cashman ends up giving Twins general manager Terry Ryan a call, the two should be able to make music. To this end, the first note they'll have to hit will be about money.
Morneau is owed $14 million in 2013, and if I'm the Yankees I'm open to picking up most or even all of it for the sake of lowering Minnesota's asking price in terms of the player(s) included in the deal. It's not as if adding most or all of Morneau's 2013 salary is going to compromise the Yankees' long-term goals, as he'll be long gone when its time to get the club's payroll under $189 million.
If the Yankees are able to get the Twins to agree to hand over most or all of Morneau's 2013 salary, they won't have to give the Twins any of their top young players. At best for the Twins, the player going to Minnesota would likely be either a Quadruple-A type, such as Adam Warren, or one or two lesser prospects like the ones the Yankees sent to Seattle to get Ichiro last July.
But if I'm Ryan and the Twins, I'm not looking to just get rid of Morneau's salary in a trade while he still has some upside; I'm looking to get a decent player for him, and to do that I'm willing to eat some of his salary. The Texas Rangers did something to this effect when they ate $10 million of Michael Young's $16 million salary and got a solid reliever in Josh Lindblom and a minor-league pitcher in return from the Philadelphia Phillies.
If the Twins make a point of eating a good chunk of Morneau's $14 million salary, they'll be able to ask the Yankees for a worthwhile young player in the trade. If it comes to that, the Yankees are going to find themselves in a tight spot, as giving up a talented young player for Morneau is an iffy proposition.
It's very unlikely that the Yankees would be willing to part with anybody significant to get Morneau. He'd only be a one-year rental, for starters, and a key concern for them would be the possibility of Morneau's health still being on shaky ground in 2013. If it came to that, the Yankees would still have a major issue at first base and they'd be out a young player they could have used down the line.
As such, the best way for the Yankees to reach a compromise would be to give up a young player who has an iffy spot in the club's long-term plans. That would mean one of their non-top-level outfield prospects, such as Ramon Flores, or a young pitcher with good talent but lots of maturing to do.
If MLB.com's Jonathan Mayo's rankings are any indication, the Yankees have a few of those to offer. The collection ranges from Jose Campos, who has a good fastball but dealt with an elbow injury last year, to Dellin Betances, whose star has fallen due to a horrid showing in 2012 brought about largely by control issues.
Betances stands out as precisely the kind of pitcher the Twins could be interested in. They had a track record for many years of favoring pitchers with good control and little velocity, but they're moving in a different direction now. The offseason saw them trade for Alex Meyer and Trevor May, two guys with big velocity but who are also in need of some fine-tuning. Betances fits that same bill.
Since it became clear over the winter that stockpiling pitching depth has become an organization goal in Minnesota, my best guess is that the eat-money, get-raw-pitcher approach is what they would prefer in a Morneau trade.
I'm willing to do that if I'm the Yankees due to their collection of raw pitchers, but only if the Twins at least agree to split Morneau's 2013 salary down the middle at $7 million apiece. If not, I'm moving on.
The Yankees would be going out on a limb if they were to acquire Morneau for that price, as they'd be running the risk of having two high-profile first basemen spending significant time on the disabled list in 2013 rather than just one. But if Teixeira does need season-ending wrist surgery, the Yankees will be in a position where they can either roll the dice on their in-house options or on a risk/reward trade candidate like Morneau.
Neither gamble would be safe, but at least the latter could result in a big pay-out.
Note: Stats courtesy of Baseball-Reference.com unless otherwise noted.
If you want to talk baseball, hit me up on Twitter.
Read more New York Yankees news on BleacherReport.com