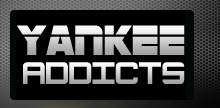 February 13, 2013 · Zachary D. Rymer · Jump to comments
Article Source: Bleacher Report - New York Yankees
By any reasonable set of standards, the 2012 season was just another wildly successful campaign for the New York Yankees. They won 95 games and their third AL East title in the last four years, and then advanced to the American League Championship Series.
By Yankees standards, on the other hand, 2012 wasn't so great. They failed to win the World Series, getting swept out of the playoffs by the Detroit Tigers in the ALCS. The series saw them collect only six runs and 22 hits. It also saw Derek Jeter's apparent immortality get punched in the face ankle.
The Yankees followed their ALCS sweep with one of their more disappointing offseasons in recent memory. They lost Russell Martin, Nick Swisher and Rafael Soriano to free agency, and general manager Brian Cashman made few upgrades and did nothing to lower the collective age of the club's roster.
With said roster all but complete, here's a look at how the Yankees are shaping up heading into the 2013 season.
2012 Record: 95-67
Key Arrivals: OF Matt Diaz (FA from Atlanta), DH Travis Hafner (FA from Cleveland), OF/1B Juan Rivera (FA from Los Angeles Dodgers), 3B/1B Kevin Youkilis (FA from Chicago White Sox).
Key Departures: 3B Eric Chavez (FA to Arizona), RHP Freddy Garcia (FA to San Diego), OF Raul Ibanez (FA to Seattle), OF Andruw Jones (FA to Japan), C Russell Martin (FA to Pittsburgh), OF Nick Swisher (FA to Cleveland), RHP Rafael Soriano (FA to Washington).
Projected Starting Rotation (Record, Innings, ERA, WHIP and K/BB from 2012)
1. CC Sabathia, L (15-6, 200.0, 3.38, 1.14, 4.48)
2. Hiroki Kuroda, R (16-11, 219.2, 3.32, 1.17, 3.27)
3. Andy Pettitte, L (5-4, 75.1, 2.87, 1.14, 3.29)
4. Phil Hughes, R (16-13, 191.1, 4.23, 1.27, 3.59)
5. Ivan Nova, R (12-8, 170.1, 5.02, 1.47, 2.73)
Depth: David Phelps, R (4-4, 99.2, 3.34, 2.53)
Projected Starting Nine (AVG/OBP/SLUG)
C: Francisco Cervelli, R (.246/.341/.316 in 99 games at Triple-A)*
1B: Mark Teixeira, S (.251/.332/.475 in 123 games)
2B: Robinson Cano, L (.313/.379/.550 in 161 games)
3B: Kevin Youkilis, R (.235/.336/.409 in 122 games)
SS: Derek Jeter, R (.316/.362/.429 in 159 games)
LF: Brett Gardner, L (.323/.417/.387 in 16 games)
CF: Curtis Granderson, L (.232/.319/.492 in 160 games)
RF: Ichiro Suzuki, L (.283/.307/.390 in 162 games)
DH: Travis Hafner, L (.228/.346/.438 in 66 games)
*Chris Stewart will compete with Cervelli for playing time in spring training. He had a .241/.292/.319 slash line in 55 major league games in 2012.
In the Bullpen (Appearances, Innings, ERA, WHIP, K/BB)
Closer: Mariano Rivera, R (9, 8.1, 2.16, 0.96, 4.00)
David Robertson, R (65, 60.2, 2.67, 1.17, 4.26)
Joba Chamberlain, R (22, 20.2, 4.35, 1.55, 3.67)
Boone Logan, L (80, 55.1, 3.74, 1.73, 2.43)
Clay Rapada, L (70, 38.1, 2.82, 1.20, 2.24)
David Aardsma, R (1, 1.0, 9.00, 2.00, 1.00)*
*Missed most of the season recovering from Tommy John surgery.
Analyzing the Starting Pitching
The Yankees' starting rotation was in a near-constant state of disarray in 2012, but it fared pretty well nonetheless. Yankees starters only ranked 15th in MLB with a collective 4.05 ERA, but they worked more innings than all but three other teams.
The key for the Yankees rotation this year—and this never needed to be said in years past—is for staff ace CC Sabathia to stay healthy. That's something that he was unable to do last season, as he found himself on the disabled list twice with groin and elbow issues. He had surgery to remove a bone spur from his left elbow in October.
The bright side is that Sabathia's performance didn't suffer when he was able to pitch. He logged exactly 200 innings in 28 starts, finishing with a solid 3.38 ERA and an AL-high 4.48 K/BB ratio.
Sabathia struggled with gopheritis (career-high 22 homers allowed) last year, but I wouldn't expect that problem to persist. He actually upped his ground-ball rate from where it was in 2011, while his fly-ball rate stayed steady (see FanGraphs). He was burned by an elevated HR/FB rate of 12.5 percent, well above his career rate of 8.8 percent.
If there's a real concern about Sabathia, it has to do with his average fastball velocity. PITCHf/x data shows that it dropped last year from an average of 93.9 miles per hour in 2011 to an average of 92.4 miles per hour. He can get by with a fastball like that, but flashing red lights will go off if his heater slows down even more.
Regardless of what happens with Sabathia, the Yankees will need Hiroki Kuroda to do precisely what he did last year all over again. He was the horse of the rotation, as he pitched just about 220 innings and had only eight starts that lasted fewer than six innings.
The one worry about Kuroda is that he benefited from a low BABIP mixed with a low strikeout rate last year. He had a new career-high ground-ball rate (see FanGraphs) to thank for that, but ERA estimators like FIP, xFIP and SIERA show that Kuroda's ERA should have been higher than 3.32.
Still, we're talking about a relatively minor disagreement between the ERA estimators and Kuroda's actual ERA. He shouldn't do any worse than an ERA in the mid-3.00s if all goes well in 2013.
The Yankees liked what they saw from Andy Pettitte last year, who was a pleasant surprise in his surprise comeback from retirement. He had a 2.87 ERA that he achieved thanks to a surprisingly high 8.2 K/9 and a very high 56.3 ground-ball percentage (FanGraphs), all with a fastball that averaged fewer than 88 miles per hour.
A regression is in the cards for Pettitte, as his ground-ball rate is likely to regress more toward his career norm of 48.8 percent, which will likely mean an elevated BABIP. That said, the bigger concern about him is how many innings he can provide, not how good his pitching is going to be (more on this later).
Phil Hughes only managed a 4.23 ERA in 2012, but he took his pitching to another level. His 3.59 K/BB was the highest of his career, and he also worked a career-high 191.1 innings.
Home runs were a problem, but they're always going to be a problem for Hughes because he's such an extreme fly-ball pitcher. Per FanGraphs, he had the highest fly-ball percentage of any qualified starter last year. That he managed a modest 12.4 HR/FB rate is actually somewhat impressive.
Hughes' ERA will only go so low as long as he's giving up so many fly balls, but it could dip under 4.00 if he increases his strikeouts. It's a fair bet that he will.
Based on what he did in 2011, Ivan Nova has the potential to be baseball's best No. 5 starter. He just has to put 2012 behind him…but not totally.
Nova's 2012 campaign was undone by a huge increase in hard contact, as he led all starters in opponents' slugging percentage (see ESPN.com). Such is life when your ground-ball rate drops, and your line-drive, fly-ball and HR/FB rates all increase (FanGraphs).
What's encouraging is that Nova's K/9 jumped up from 5.33 in 2011 to 8.08 in 2012. That was a product of an elevated swinging-strike rate, and Nova has the stuff to repeat that trend in 2013.
If Nova keeps the K's coming while keeping his stuff down in the zone more consistently, he should have his ERA dip back into the 4.00s. The Yankees will take that and about 180 innings out of their No. 5 starter any day of the week.
There are some potential pitfalls, but the Yankees have a darn good rotation on paper. If all goes well, their starting rotation will keep them slump-proof in 2013.
Analyzing the Bullpen
The loss of Mariano Rivera for the season in early May didn't end up being a crushing blow for the Yankees bullpen. It ended up with a solid 3.43 ERA, and only the Texas Rangers and Tampa Bay Rays blew fewer saves.
All the same, the return of Rivera is the big storyline for this year's bullpen. Exactly how it's going to pan out is anyone's guess.
The track record that Mo has carved out with his cut fastball speaks for itself, but returning to form after a torn ACL at his age will be no easy task. As it is, no 43-year-old reliever in history has ever logged 60 appearances and 30 saves, customary numbers for Rivera.
If Rivera can't hack it in his return to action in 2013, the Yankees will be in a spot of bother. They had Rafael Soriano to come to the rescue in 2012, and he's gone now.
There will be pressure on David Robertson to perform one way or the other in 2013, as he's either going to be Rivera's primary setup man or his replacement in the ninth inning.
The key for Robertson will be to further hone his cutter in 2013. PITCHf/x shows that he threw it way more often in 2012 than he did in 2011, but with mixed results. Left-handed batters had a higher OPS against him last year than they did in 2011, and in general, his cutter was hit at a .258 clip while his four-seamer was hit at a .203 clip. He should take some pointers from Mo.
Joba Chamberlain will be doing the Yankees a big favor if he builds on his strong finish to the 2012 season, as he didn't give up a run in any of his final 11 appearances. The bright side where he's concerned is that PITCHf/x data shows that his injuries didn't impact his fastball velocity, as it was right where it was in 2010 and 2011. His slider velocity also stayed steady.
The two lefties the Yankees have in their pen probably don't get the credit they deserve. Boone Logan's control comes and goes, but he's upped his strikeouts each of the last three seasons thanks mainly to his nasty slider. PITCHf/x shows that opponents hit only .155 against it in 2012.
Clay Rapada, meanwhile, is one of the better lefty specialists out there. He held lefty hitters to a .518 OPS in 2012, striking out nearly 30 percent of the lefties he faced.
Things will go swimmingly for the Yankees bullpen in 2013 if Rivera stays healthy, as they have enough depth in front of him to handle the middle-to-late innings as well as they did last year.
If Mo gets hurt, though, Cashman won't be able to stand on ceremony. Either Mark Montgomery will have to get the call to the majors, or a trade will have to be made.
Analyzing the Offense
It was business as usual for the Bronx Bombers in 2012. Only the Rangers scored more runs, and the Yankees led baseball in OPS and with a new franchise-record 245 home runs.
The bad news is that the Yankees lost some power this winter, as Martin and Swisher took 45 combined home runs in 2012 out the door with them. Replacing this power won't be easy, as Swisher's right field spot is now occupied by Ichiro and Martin's catcher spot is occupied by two catchers in Francisco Cervelli and Chris Stewart who have very little power.
Travis Hafner could give the Yankees a boost, but that's a big maybe. He posted his highest ISO (Isolated Power) since 2006 in 2012, but he's played in more than 100 games only once since 2007. The Yankees might get 20 homers out of him if they're lucky, but they shouldn't expect more than 15.
Expectations also shouldn't be too high for Kevin Youkilis. He wasn't half bad with the Chicago White Sox last year, and he surely won't be any worse than Alex Rodriguez was in 2012, but his best offensive days are behind him. Youk still walks enough to maintain a solid OBP, but his recent track record makes it clear that he's not going to post a BABIP over .300 or an ISO over .200 again.
So the pressure will be on the usual suspects to keep on producing the power in 2012, namely Robinson Cano, Curtis Granderson and Mark Teixeira.
Cano set a new career-high with 33 home runs in 2012, which he got thanks to an elevated HR/FB rate and a career-best .238 ISO (FanGraphs). His power has been increasing steadily for four years now, so he should still be able to hit .300 with 30 homers even if his BABIP is hit by bad luck.
Granderson has hit more home runs than anybody over the last two seasons, and he should flirt with 40 home runs again in 2013 if he keeps his ISO well over .250. His issue is plate discipline, as his walks declined and his strikeouts increased last year because of an elevated swinging-strike rate (FanGraphs). He'll have to stop obliging pitchers if he wants to get back to where he was in 2011.
Teixeira, meanwhile, just needs to stay on the field. His BABIPs have fallen too much over the last three years as his age has advanced to expect a return to the days when he used to hit .300, but he's still capable of an ISO over .200 and, in turn, upwards of 30 bombs over a full season.
The Yankees' power production won't fall too far if Cano, Granderson and Teixeira take care of business, but their offense needs to be more multidimensional in order to maintain its traditional dominance.
Having Brett Gardner and Ichiro for a full year will help. The Yankees sorely missed Gardner last year, as he's a true pest who's capable of providing a .360 OBP and upwards of 40 stolen bases. He averaged a .364 OBP and 48 steals in 2010 and 2011, and that's what the Yankees will be looking for in 2013 if he stays healthy. The extra run-scoring opportunities he can create will help account for some of their lost power.
Ichiro still has some speed of his own, as he stole 14 bases in 67 games for the Yankees last year. But be careful about expecting him to hit .300 again, as his BABIP rose from .279 when he was with Seattle to .337 on the Yankees. Such a spike likely isn't sustainable, especially not at his age.
Speaking of BABIP spikes that may not be sustainable at advanced ages, such talk leads us to Derek Jeter. He enjoyed a renaissance season that saw him hit .316 in 2012, but it's going to be very hard for him to do so again.
Dan Szymborski of Baseball Think Factory wrote in a piece for ESPN Insider last month that even greats like Ty Cobb, Honus Wagner and Rod Carew were unable to maintain their career-norm BABIPs in their age-39 seasons. That's what Jeter will be attempting to do in 2013, as he'll be looking to replicate a .347 BABIP from 2012 that was pretty well in line with his .354 career BABIP.
He'll need to maintain the high line-drive rate he had last year to do that, and he'll also need plain, old-fashioned good luck. He'll also need his surgically repaired left ankle to cooperate, which is no small hope at his age.
Age in general is a concern for the Yankees offense. The average age of a Yankees hitter in 2012, according to Baseball-Reference.com, was 32.7. That number won't go down this year, and it doesn't bode well for the Yankees that no World Series champion since 2000 has won it all with an average batter age over 32.
Analyzing the Fielding
The Yankees are going to be something of a mixed bag in 2013. On the whole, though, they should be solid enough.
They're going to be fine on the right side of their infield, as Cano and Teixeira were their two best fielders in terms of Ultimate Zone Rating and Defensive Runs Saved in 2012 (FanGraphs). That's par for the course for them, as Cano is one of the best in the business at second and Teixeira may be the best in the business at first.
The Yankees should also be solid defensively behind the plate, especially if Stewart beats out Cervelli to earn the bulk of the playing time. He's a very strong defensive catcher, with a career caught-stealing percentage of 34.0 and a total 2.4 Defensive WAR over the last two seasons (see Baseball-Reference.com).
The left side of the Yankees' infield defense won't be so great. We can talk all we want about Jeter's instincts and positioning, but he has no range to speak of. He was the worst defensive shortstop in the majors in 2012 in the eyes of both UZR and DRS. He's going to be no better in 2013 on that surgically repaired ankle.
Youkilis isn't a total disaster at third base, but he's no prize either. Between his time with the Red Sox and White Sox in 2012, he posted a minus-4.5 UZR and a minus-one DRS at third base (FanGraphs).
With Gardner in left, Granderson in center and Ichiro in right, the Yankees' outfield defense will be decent enough. Granderson was one of the worst defensive center fielders in the league in 2012, but he was adequate in 2011 when he had Gardner playing alongside him on a daily basis. He's got a ton of range in the outfield, and Ichiro still covers plenty of ground of his own in right field.
Gardner and Ichiro will make things easier for Granderson in 2013. Worse comes to worst, the Yankees can always shift Granderson to left and Gardner to center, an experiment that Danny Knobler of CBSSports.com says the Yankees have already considered.
Most Important Pitcher
The Yankees' best pitcher is CC Sabathia. Their most important relief pitcher is Mariano Rivera.
But their most important pitcher overall? That's Andy Pettitte.
On paper, the Sabathia-Kuroda-Pettitte trio stands out as being one of the best top-end rotation trios in the league based on how they performed last year. The catch is that the Yankees know they can count on 200 innings from Sabathia and Kuroda, but not so much from Pettitte.
Pettitte last logged 200 innings in a season in 2008. He last made over 30 starts in a season in 2009. The odds of him doing these things in 2013 are slim, as only five 41-year-olds have started more than 30 games and logged more than 200 innings since 2000. The last to do it was Tom Glavine in 2007.
If Pettitte can deliver between 25 and 30 starts for the Yankees, he'll be a solid bridge between the very strong front end of the Yankees rotation and the merely decent back end. The club's rotation will thus have the ideal structure: great to good to good enough.
If Pettitte can only give the Yankees, say, 20 or so starts in 2013, more pressure will be put on Phil Hughes and Ivan Nova. The club's starting pitching depth will also be tested, and that's not a good thing seeing as how all they have is David Phelps and Michael Pineda, who won't be ready to return from shoulder surgery until later in the year.
Pettitte was something of a luxury when he made his surprise comeback in 2012. This year, he'll be a much more vital cog in the Yankees rotation.
Most Important Hitter
I may be stating the obvious here, but there's no understating how important it will be for Robinson Cano to have a big season in 2013.
Cano is the only hitter the Yankees have who's in the absolute prime of his prime, and they stand to get a huge season from him seeing as how he'll be in salary drive mode with free agency approaching. He could give them 35 home runs this year. Maybe even 40.
But as good as he is, you just never know with Cano. Consistency has a way of eluding him, as he tends to be much better in one half of a season than he is in the other.
The pattern repeated itself in 2012. Cano had a .953 OPS and was on pace to hit about 40 homers at the All-Star break, but his OPS fell to .902 in the second half. Things would have been worse had it not been for a late-season surge against the worthless pitching staffs of Toronto and Boston.
Cano was even worse in the postseason. He managed only two hits in the ALDS against Baltimore, and only one hit in the ALCS against Detroit. The Yankees struggled offensively in both series.
The way in which Cano was hit or miss down the stretch and into October last year wouldn't have been a catastrophe in years past when the Yankees had an array of dangerous hitters around him. But given the state of their lineup these days, he's no longer just another guy. He's the guy.
He'll have to take that sentiment to heart in 2013. The Yankees will be counting on him.
X-Factor
This may be the first time in recorded history that anyone has ever referred to Alex Rodriguez as an X-factor.
But that's precisely what A-Rod will be in 2013. The Yankees have no idea what they're going to get out of him. Their only hope is that they're going to get something out of him.
Rodriguez has to actually play for that to happen. The New York Daily News would have everyone believe that he's done as a Yankee, but the prognosis following his latest hip surgery is that he could be back by the middle of the season.
Expectations will be low for A-Rod if he does return in 2013, and rightfully so given the fact that he'll be playing on two surgically repaired hips. However, the Yankees might be lucky enough to get the .806 OPS they were getting from A-Rod in 2012 before Felix Hernandez broke his hand with a stray fastball.
Or A-Rod won't return at all. Or maybe he'll return and do nothing, in which case the Yankees will stick with Kevin Youkilis at the hot corner for the remainder of the season.
A pleasant surprise or a nonessential cog. That's an X-factor for you, and it's what A-Rod has become.
Prospect to Watch
The Yankees have some intriguing outfielders down on the farm, but the guy Yankees fans will want to monitor in 2013 is 20-year-old catching prospect Gary Sanchez.
Sanchez was signed as an amateur free agent out of the Dominican Republic in 2009, and since then he's garnered more and more attention. This year, he checks in at No. 36 on MLB.com's Jonathan Mayo's rankings, and at No. 18 on ESPN's Keith Law's rankings (Insider piece).
The book on Sanchez is that he has a very high offensive upside, and the numbers certainly back up that notion. He has an .847 OPS for his career in the minors, and he's hit a total of 35 home runs in A-ball over the last two seasons.
Sanchez wasn't supposed to be much of a defensive presence behind the plate, but he made enough strides in 2012 to stay in line to be a catcher in the big leagues rather than a DH or a first baseman.
Catchers who can hit are a rare commodity. The Yankees got to enjoy a good one in Jorge Posada for many years, and Russell Martin had his moments at the plate for the Yankees in 2011 and 2012.
Given the state of the Yankees' catcher position these days, Sanchez can't arrive soon enough.
Best-Case Record: 95-67
While seemingly everyone and their uncle is forecasting doom for the Yankees, club manager Joe Girardi is optimistic about his club's chances in 2013.
"This team could win 95 games, and win the World Series," he told Andy McCullough of The Star-Ledger.
As long as the operative word is "could," that sounds about right to me.
The age concerns everyone has regarding the Yankees are warranted, especially where their offense is concerned. But they will end up among the league's top run-scoring teams if their key pieces stay healthy for the majority of the season, in part because their offense will feature more versatility with Brett Gardner returning and Ichiro sticking around for a full season.
The Yankees don't have the deepest pitching staff in the league, but it's good enough on paper. CC Sabathia and Hiroki Kuroda should make for one of the top duos in the league, and other clubs wish they could have Andy Pettitte, Phil Hughes and Ivan Nova rounding out their rotations.
The ninth inning will be as safe as ever if Mariano Rivera returns to form and his cutter keeps cutting, and it's hard to bet against that happening seeing as how he's the closest thing to a Terminator the league has ever known. The underrated David Robertson will be the club's eighth-inning closer.
A 100-win season is too much to ask given the various weaknesses the Yankees have and the strength of the AL East around them, but 95 wins and yet another postseason berth are attainable.
Worst-Case Record: 67-95
Every club has its share of pitfalls, but the Yankees have a lot of them.
The biggest concern is Derek Jeter's ankle. He may not be able to stay on the field, and he may not be himself even if he is able to stay on the field. The Yankees will be further screwed on the left side of their infield if Kevin Youkilis' health acts up, and Mark Teixeira is an injury risk as well over at first.
The Yankees will need great pitching if their offense crumbles due to age, but their mound staff has pitfalls too. The health of CC Sabathia's elbow is a question mark, and Hiroki Kuroda and Andy Pettitte have seen close to 80 winters between then. Phil Hughes has struggled with injuries in the past, and Ivan Nova spent some time on the DL in 2012.
Rivera may not be able to stay healthy in 2013. Even if he does, it may take him a long time to shake off the accumulated rust after nearly a full year off. The Yankees don't have a comforting insurance policy if he can't hack it in the ninth.
The Yankees won't be able to scrape by if they develop more and more weaknesses in 2013. The AL East is too strong from top to bottom, featuring exactly zero pushovers for the first time in a long time.
In a strange twist of fate, it could be the Yankees who serve as the division's pushover in 2013. Such a fall from grace would be shocking, but it's bound to happen sooner or later.
If you want to talk baseball, hit me up on Twitter.
Read more New York Yankees news on BleacherReport.com