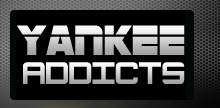 February 18, 2010 · Perry Arnold · Jump to comments
Article Source: Bleacher Report - New York Yankees
Ths is one of the happiest days of the year, as Spring Training opens. It makes all of us kids again, remembering the snap of ball into mitt and the unique sound of a well struck ball off a wooden bat.
As has been so often said, "Hope Springs Eternal." Even the fans of perennial cellar dwellers can find some invigoration in Spring Training as we look to the future.
It also makes all of us who are baseball fans turn to our past. One of the things that makes our favorite game so great is the statistics and our ability to compare one player to another even if they played 80 years apart.
With that in mind, I could not help but think of some of the game's greatest hitters. So, I decided to do some comparisons.
Some caveats for the readers here before you start blasting me with your comments.
First of all, yeah, I know, you really can't compare players of one era with those of another.
How can you compare the hitters of the dead ball era with hitters of the juiced up era?
But you can to some extent and I will do so here, for what it's worth.
Secondly, only some statistics will be counted here. There are fans who would choose stats other than the ones I chose.
Thirdly, I have chosen which players I wanted to compare. I am heavy on Yankee hitters because I am a Yankee fan and that is what I like to do.
But I have seven hitters who did not play for the Yankees and any of you who want can get simple stats from Baseball Reference and compare the ones you want to.
I know I left out players such as Hank Greenberg and Mel Ott and Mike Piazza. Just didn't want to take any more time to gather their stats.
Finally, there are aspects of each and every one of the hitters I chose that make them unique and I will try to point out some of those aspects.
Many baseball fans believe that Ted Williams was the greatest hitter who ever stepped on a big league diamond. So how did Teddy Ballgame compare?
Ted Williams had 2021 base on balls and only 709 Ks in his career. He finished his career with a batting average of .344, an on base percentage of .482, a slugging percentage of .634, an OPS of 1.116 and an OPS+ of 191.
And of course we all know Ted was the last hitter to finish a season above .400, hitting .406 in 1941.
What many do not remember about Ted Williams is that he missed five full seasons of his major league career in the prime of this talent. Ted served in the Army Air Corps in World War II and missed all of 1943, 1944 and 1945. He returned to the Air Force in the Korean War and missed all of 1952 and 1953.
What numbers could Ted Williams have amassed if he had played those seasons when he was at his best? We will never know.
What we do know is he played a full season at age 41. How did he do?
Well he hit .316 in his final year in Boston and had an OPS+ of 190. Makes you wonder why he didn't come back in 1961.
So is Ted the best?
Let's look at Babe Ruth:
Babe walked 2062 times and struck out 1330 times. He had a career average of .342 (just below Williams). But he had a career OBP of .474, a career SLG of .690, an OPS of 1.164 and an OPS+ of 207.
You better read that OPS+ again. Yeah, it says TWO OH SEVEN.
Which means that during his playing years, Babe was more than twice as good as the average hitter at getting on base and slugging combined.
Obviously some of the OPS+ is because Babe was unique in his time in that almost no one in the early to mid '20 was hitting home runs as Babe did.
And even though Ted Williams could still really hit when he was over 40, Babe could not. In his last season, he was 40 years old, playing for the Boston Braves and hit only .181 in 28 games with an OPS+ of 118.
Hank Aaron broke Babe's career home run mark. So how does he compare to the Babe?
Aaron was walked 1402 times in his career and struck out 1383. This makes it appear that pitchers were not as fearful of Hank as they were of Babe.
Aaron finished his career hitting .305 with an OBP of .374, SLG of .555, OPS of .928 and OPS+ of 155.
At the end of his career Hank could no longer hit as he did for most of his career. At age 41 he hit only .234 with an OPS+ of 95.
If you could start with a fresh Babe or a fresh Hammer, most would pick the Babe.
Willie Mays played in the same era as Hank. Willie walked 1464 times and struck out 1526. He finished his Hall of Fame career hitting .302 with an OBP of .384, SLG of .557, OPS of .941 and an OPS+ of 156.
But most of Willie's decline came in his later years. He came back to New York to play for the Mets late in his career and played to age 42.
In order to compare him to Ted and Hank, Willie at age 41 hit .267 with an OPS+ of 131.
Mickey Mantle also played when Aaron and Mays did, but not nearly as long.
Mantle retired at age 36 after four below par seasons in which he was bothered by both leg and arm injuries. If he had quit when he contemplated, when he was 32, he would have left with a career average over .300.
But Mickey finished his career with 1733 walks, 1710 Ks, a .298 average, a .421 OBP, a .557 SLG, a .977 OPS and an OPS+ of 172.
Every baseball fan will wonder what Mickey could have done on two good legs. But even with bad wheels and one bad wing, Mickey was awesome.
Going back a little, two other Yankees merit consideration.
Mickey replaced Joe Dimaggio. We must pause to remember that Joe D also missed three years in the prime of his career when he was in the Army in 1943, 1944 and 1945.
But Joe D played through 1951. One of his most remarkable stats is that he had only 369 strikeouts for his entire career. He walked only 790 times which tells you he was making contact a lot.
Joe finished with a career average of .325, OBP of .398, SLG of .579, OPS of .977 and OPS+ of 155.
Of course Joe still holds one of the records thought least likely to be broken. In the same year Ted Williams hit .406, Joe D hit safely in 56 straight games.
One of Joe D's teammates on the Yankees of the '30s and '40s was Lou Gehrig.
Gehrig walked 1508 times and struck out only 790 in his great career. His average was .340, his OBP .447, SLG .632, OPS 1.080 and OPS+ 179.
How many teams today would break the bank for a cleanup hitter with an on base percentage of .447 with an OPS over 1.000?
One team that has a player very close to that is the present St. Louis Cardinals.
Albert Pujols is still very young but he is the greatest hitter in the game today.
Pujols has walked 811 times and struck out only 570. His average is .334, his OBP .427, his SLG .628, his OPS 1.055 and his OPS+ 172.
If Pujols can maintain his numbers as long as some of the other greats mentioned above, he will be immortal when he finally retires.
Another current star who has been called among the greatest hitters of the game is Alex Rodriguez.
A-Rod is a few years older than Pujols. He has walked 1060 times and struck out far more with 1738 Ks.
ARod's average is .305 for his career, with an OBP of .390, a SLG of .576, an OPS of .965 and an OPS+ of 147.
Choosing offense only, one might take Pujols over A-Rod if they were both rookies right now.
But for most of his career A-Rod was the best shortstop in the game. While Pujols may be the best defensive first baseman in the game, most GMs would probably still pick A-Rod over Albert because of what his all round game is.
The final slugging star to be considered is the man who currently holds the all time homers record.
Barry Bonds finished his career with what many consider to be tainted records because of his steroid use. But no one can question he has put up some mighty numbers.
Bonds walked 2558 times, many of them intentional. He struck out 1539 times. His career average was .298, with an OBP of .444, a SLG of .607, an OPS of 1.051 and an OPS+ of 181.
And at age 41 Bonds still hit .270 with an OPS+ of 156.
Now, comparing three players that are of a completely different character.
Ty Cobb still ranks second on the all time hits list. Cobb finished his career with an average of .366, an OBP of .433, a slugging percentage of .512, an OPS of .977 and an OPS+ of 168.
Cobb walked 1249 times and struck out only 357 times in his long career. At age 41 he hit .323 with an OPS+ of 129.
Late in his life someone asked Cobb what he thought he could hit if he was playing in the modern era. He answered that he could hit .300.
When his interviewer was curious about why his average would have dropped so much, Cobb flared: "Hell, I'm 75 years old now."
Pete Rose eclipsed Cobb's hits record. Rose finished his long career with a .303 average. He walked 1566 times and struck out .1143.
Rose's OBP was .375, his SLG was only .409. His OPS was .784 and his OPS+ was only 118.
But Rose's numbers continued to fall as he played on into his 40s. At age 41 he hit .271 with an OPS+ of 90.
The final hitter here is Derek Jeter. Some believe Jeter has an outside chance to one day pass Rose. He will have to play past his 42nd birthday to do it, but it is possible.
Derek Jeter has walked 885 times an struck out 1466 times. His career average is .317 with an OBP of .388, a SLG of .459, an OPS of .847 and an OPS+ of 121.
So there is the comparison. Those fans of Ted Williams will never be convinced he wasn't the greatest with the stick.
Those fans of Babe will argue that he changed the game forever and that his OPS+ of 207 is a number not quite believable.
And there are those who will argue that you shouldn't even talk about Barry Bonds and that Albert Pujols will break all records before he is through.
Isn't baseball a wonderful game.
So glad they are playing in Florida.
Read more New York Yankees news on BleacherReport.com