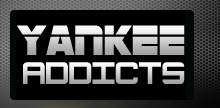 December 8, 2011 · Harold Friend · Jump to comments
Article Source: Bleacher Report - New York Yankees
I really don't know how this is going to turn out, but it is fascinating. To me, Mickey Mantle was the greatest player I ever saw (yes, I saw Willie Mays), but Carl Yastrzemski had some seasons that rank with Mantle's best.
Carl Yastrzemski is baseball's last Triple Crown winner. In 1967, he batted .326, hit 44 home runs and batted in 121 runs. Yaz also led the league with a .418 on base average, in slugging with a .622 mark and in total bases (360).
In 1956, Mantle batted .353 with 52 home runs and 130 RBIs. Mantle's .705 slugging average and 376 total bases were tops, but Ted Williams led the league with a .479 on base average.
Now let's see what the numbers mean, always keeping in mind Mark Twain, who quoted Benjamin Disraeli when he said "There are three kinds of lies: lies, damned lies and statistics."
Fenway Park was difficult for left-handed power hitters while Yankee Stadium favored them. Yastrzemski could hit to left field with excellent power. So could the switch-hitting Mantle.
OPS+ is OPS adjusted for the park and the league in which the player played. In 1967, Yaz's OPS+ was 193. Mantle's 1956 OPS+ was 210.
A major factor was that Mantle hit eight more home runs than Yastrzemski. In 1956, American League's teams averaged 134 home runs. Mantle's 52 home runs compute to 39 percent of the home runs teams averaged. Only Vic Wertz (32) and Yogi Berra (30) hit as many as 30 home runs.
In 1967, American League teams averaged 120 home runs. Yastrzemski's 44 home runs compute to 37 percent of the home runs hit. Only Harmon Killebrew (44 to tie Yaz), Frank Howard (36) and Frank Robinson (30) hit as many as 30 home runs.
RAR is a recent statistic that represents Runs Above a Replacement Player. Mantle had an RAR of 127. Yaz's RAR was 108.
WAR represents Wins Above a Replacement Player. Mantle's was 12.9. Yastrzemski's was 12.2.
Mickey Mantle was a great defensive center fielder because he could outran most fly balls. Carl Yastrzemski was the greatest defensive left fielder in baseball history. Yes, he was better than Barry Bonds before Barry's "training methods" resulted in sacrificing defense in favor of offense.
In 1967, Yaz had a dWAR of 2.7. Mantle, in 1956, had a dWAR of 0.6.
One traditional measurement that saber-metricians tend to eschew is batting average. Make no mistake, batting average is valuable.
In 1967, American Leaguers batted .236. Read that again. It seems amazing. In 1956, the American League batted .260.
Yaz's .326 was 90 points above the league average. Mickey's .353 was 93 points above the league average.
Enough is enough. I am not surprised at the results, but I thought that the fact that the 1967 American League was offensively challenged would result in Yastrzemski finishing a little closer to Mantle.
Finally, Yastrzemski led the Boston Red Sox in one of the greatest of all pennant races. There is no doubt, none at all, that without Yaz, the Red Sox would not have been American League champions.
Yastrzemski was one of the greatest players in history. Both he had Mantle had to replace an all-time great.
Mickey Mantle and Carl Yastrzemski each had great careers, but to paraphrase a former Chicago Cubs' announcer, Mantle was no Joe DiMaggio and Yastrzemski was no Ted Williams.
Read more New York Yankees news on BleacherReport.com