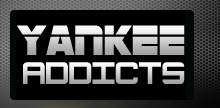 November 2, 2010 · Larry Barnes · Jump to comments
Article Source: Bleacher Report - New York Yankees
According to the new free agency rules in Major League Baseball, there are only five days (rather than the previous 15 days) between the end of the World Series and open season on free agents.
That means teams can begin negotiating with free agents at midnight, this Sunday morning. If history is any judge, you can expect to hear about a substantial offer made to Cliff Lee by the New York Yankees sometime on Sunday.
"The free agent market is certainly a big thing we look at," said owner and managing general partner Hal Steinbrenner when asked about Lee. "And we will have money to spend."
That's exactly what New York did two years ago with CC Sabathia, opening with a shock 'n awe initial offer of six years and $140 million on the first day of free agency. That offer dwarfed the then-record deal for a pitcher, which was just over $120 million for the Mets' Johan Santana.
If it's possible, the Yankees appear to value Lee even more than they did Sabathia. In fact, Lee is the only player for whom GM Brian Cashman has been willing to give up both premium talent and dollars. Cash refused to do so when he had the chance to trade for either Santana or Sabathia.
The idea for such a quick and massive initial offer is to intimidate and immediately eliminate as many teams as possible from the Cliff Lee chase. That's also why news of this offer will be "leaked," almost certainly by the Yankees themselves. They WANT this information out there.
The plan worked well with Sabathia, who never received any firm offers from the National League teams on the West Coast he was believed to covet. A big offer from the Yankees might not immediately eliminate the Texas Rangers, but it might send just about every other team scrambling for a white flag.
In the winter of 2008, the Yankees eventually bid against themselves to lock up Sabathia. Increasing their already-best offer by another year and another $21 million, admitting they knew they had to pay a "premium" to get Sabathia to give up on the National League and the West Coast.
Back in the middle of the season, Cashman was more than willing to trade a package of prospects, including his very best in Jesus Montero, to Seattle for Lee, and then to pay top free agent dollars to the pitcher, as well.
And now that prospects like Montero are not needed to get Lee? Now that the Yankees need only write the check? Expect them to be extremely aggressive and decisively quick, and expect them to go to whatever financial lengths are required to land the best pitcher to hit the open market in years.
And Cliff Lee (along with the rest of us) can expect to hear from the Yankees this Sunday.
Read more New York Yankees news on BleacherReport.com