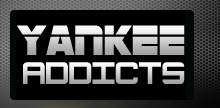 June 11, 2009 · Marisa Scolamiero · Jump to comments
Article Source: Bleacher Report - New York Yankees
Last night, the Yankees lost their seventh straight game to the Red Sox this season. This game was a lot closer than Tuesday's contest, as the Yankees lost 6-5 as opposed to 7-0.
While the Yankees and their fans are shaking their heads at another loss at the hands of Red Sox nation, the more puzzling thing is if Chien-Ming Wang will ever regain his form.
Wang started for the second time since being moved out of the bullpen and only lasted two and two-thirds innings. He surrendered four runs on six hits, walked three, and managed to lower his ERA from 14.46 to 14.34.
Not exactly encouraging numbers.
Phil Hughes came in with two outs in the third to relieve Wang, and despite one bad pitch to Kevin Youkalis for a two-run homer, he gave a good performance.
The numbers are the numbers, so the question facing Joe Girardi and the Yankees is what to do next?
Wang did keep most of his pitches down against the Red Sox, a sign that his sinker ball is doing what it's supposed to. However, his command is still way off. He doesn't look comfortable, and the look in his eyes says that he has lost his confidence as a pitcher.
Even his battery mate, Jorge Posada didn't know how to explain what's going on with Wang. All he could muster was that he's all over the place, and can't seem to get command of his pitches, and it's obviously effecting him.
How long is it going to take for Wang to return to his dominating form? If there's nothing physically wrong with him, how can the Yankees correct what's going on in his head?
The Yankees have invested a lot in Wang, and to put him out in the bullpen seems like a waste. He can't get sent down to the minors without being put on waivers, and there's no way the Yankees want to open up the opportunity of losing Wang to another team. Although I doubt there are many teams looking for a pitcher with a 14.34 ERA.
At the same time, can the Yankees keep sending a pitcher to the mound every five days that has become such a liability? Wang's been pitching in the big leagues for almost three full seasons, so he should know how to pitch and get guys out.
Sure, Dave Eiland and Girardi can sit with Wang, watch video, tell him what to correct when he throws his bullpen sessions, but they can't be out on the mound with him. They can't make his pitches for him, and they can't get him out of his own head.
The temptation is there to send Wang to the bullpen and re-insert Hughes into the starting rotation, but the Yankees are likely to ignore it for as long as possible. Wang has proven to be so reliable in the past, it's hard to give up on him.
However, at the end of the day, the Yankees want to be in first place. They want to not only get to the playoffs, but they want their 27th championship, and that desire is likely to outweigh their patience with Wang getting on track.
Wang needs to remember how to pitch again, and regain his command. The Yankees know they would be that much better if he could right himself, and they are hoping he can figure it out soon, and by soon that means his potential next start.