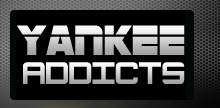 April 26, 2010 · Bronx Baseball Daily · Jump to comments
Article Source: Bleacher Report - New York Yankees
As if baseball isn't over-analyzed enough, David Biderman of The Wall Street Journal wrote about data collected by Marquette University that recorded all the 2009 Yankee home run trot times.
What they found out is that slugger Alex Rodriguez not only circles the bases most often, but he also rounds them the slowest.
He is followed by Nick Swisher , Robinson Cano , Jorge Posada , and Mark Teixeira , who are all within two seconds of each other.
Curtis Granderson was the fastest around the bases in '09, with Derek Jeter coming in right behind him.
Here is a chart they put together:
Of course A-Rod is the slowest around the bases. First of all, he probably hits the most no-doubters. Second, he's the only one I can think of, aside from Swisher, who comes in second, who watches some of his shots.
Related Stories
Read more New York Yankees news on BleacherReport.com