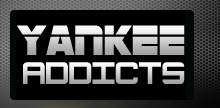 February 26, 2010 · Bronx Baseball Daily · Jump to comments
Article Source: Bleacher Report - New York Yankees
Among the possible free agents in next year's class that fans have their eye on is left fielder Carl Crawford , but unlike somebody like Cliff Lee, fans are not unanimous in their support for Crawford.
Many say that he won't leave Tampa, so why bother worrying. Some fear that 2008 was an indication that he won't be worth the money, and most fear that as a speedster his game will have a significant drop-off as he ages. All arguments have their merit, but one that I haven't heard much concerns his possible character issues.
From Steve Lombardi of Was Watching :
Two things about Carl Crawford: One, he's very "street." Think Mickey Rivers meets Rickey Henderson—not that there's anything wrong with that.

[snip]


I'm just saying…if it were me, I'd be careful about giving him a very long term deal once he hits the free agent market. I'd be very concerned about going more than five years on an offer. But, that's just me…
I've never really heard much about Crawford having issues with his attitude, so I was wondering what "street" meant? Lombardi clarified what he meant in the comments:
Just to clarify the "street" comment…
If you've ever heard Crawford interviewed, you probably understand this…

His communication skills are very far from polished. He's not Jeter, Granderson, A-Rod, or Teixiera like in terms of the way he presents himself verbally.

Further, have you seen the huge tattoo on the side of his neck? Somehow, I don't think you'll see Mariano Rivera or Andy Pettitte running out and getting one of those too.
Lombardi goes on to claim he didn't mean the "street" comment as a negative ,quoting himself saying, "not that there's anything wrong with that." But it clearly was one of the two reasons he gave for the Yankees "to be careful about signing him." If he doesn't view it as a negative, he wouldn't use it as a reason not to sign him.
But let's get back to "street". In the context he used the term, he meant it to be that he doesn't speak well and has a neck tattoo. Two things about this: Tampa is a relatively small media market and Crawford certainly isn't an outspoken person, so these two facts probably played a part in Lombardi labeling him a "far from polished" speaker.
As far as that tattoos are concerned, I haven't heard a single person complain about the tattoos of AJ Burnett , Joba Chamberlain , Brian Bruney , and Jason Giambi .
But Crawford has a small tat of the astrological sign for Leo and that's a problem? Alyssa Milano has a neck tattoo, is she "street"?
His entire argument reeked of something our own Brian Burkhart brought up a couple of weeks ago —subtle racism in baseball. Now don't get me wrong, I'm not here to accuse Lombardi of racism, that's not for me to decide. My main point is to stomp out any idea that character could be a concern when it comes to the Yankees signing Crawford.
The idea that they shouldn't sign Crawford because of a neck tattoo is ridiculous, and one that I hope Lombardi, or anyone else, doesn't bring up again. It's silly, especially when we've accepted it in so many other players.
Burnett has a rather large tattoo on his hand, and so far that hasn't been a problem. It might be ugly and possibly even in bad taste, but I doubt it has effected anyone's perception of him. We shouldn't let a neck tat effect our perception of Crawford.
As for his inability to be an articulate speaker, I'm not sure where that comes from. Again, it could be due to Crawford's bashfulness and the small market of Tampa, but why should anything that he says keep the Yankees away from him?
He's never said anything close to the phrases we've heard from the likes of guys like Gary Sheffield. Besides, actions speak louder than words.
But again, I'm not too familiar with Crawford off the baseball field, so I enlisted the help of Devon Rogers of the Rays blog, Rise of the Rays for some background on him:
From all I have seen he is a very positive person. When I am hanging around by the field before the games, he is always joking around with the players, batboys, and security staff. He is very well liked by the players ,and he is one of the fan favorites.

His work ethic is one of the best I have seen. They recently did an entire Baseball Tonight episode on his offseason workouts, and they were pretty hard core. He also works hard in BP and plays hard no matter what.

He said the other day in the newspaper here that he knows no other level than as hard as he can play.

Crawford works with Boys & Girls Club, and usually runs a baseball clinic at the Trop with CC Sabathia during a Yankees series because Crawford and Sabathia are great friends.

I would not believe any of the bad things you here about Crawford because he is a great player and a great person. Any team who gets him will be very lucky, I'm just still holding out hope that it will be us.
The Yankees have recently been trending toward players who are positive influences in the clubhouse like CC Sabathia and Curtis Granderson. It sounds like Crawford will be closer to these guys than the Gary Sheffield or Kevin Brown types.
As far as Crawford's possible character issues, I don't think there are any. What do you think?
Related Stories
Read more New York Yankees news on BleacherReport.com