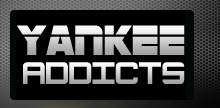 March 25, 2010 · Bronx Baseball Daily · Jump to comments
Article Source: Bleacher Report - New York Yankees
According to Marc Carig of The Star-Ledger, the Yankees have released righty Chad Gaudin just two days after they put him on waivers.
Since his contract was non-guaranteed, the Yankees only owe him 25 percent, or about $737,500, out of the $2.95 million he would have been owed had he made the team.
This doesn't necessarily mean that his days with the Yankees are over as the team could re-sign him and send him to the minors. However, there is a good chance that Gaudin, now a free agent, can find a major league job lessening the likelihood of him returning to the organization.
Now that he is out you can expect Gaudin, like many other former Yankees, to grow his facial hair back. At least the Yankees forced him to shave that ugly thing while they could.
Read more New York Yankees news on BleacherReport.com