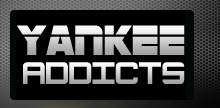 March 28, 2010 · Bronx Baseball Daily · Jump to comments
Article Source: Bleacher Report - New York Yankees
According to Ken Rosenthal of Fox Sports, Chad Gaudin, who was released by the Yankees last Thursday, has signed with the Oakland Athletics and will join the team's bullpen.
Gaudin was set to make $2.95 million this season with the Yankees, but his contract was non-guaranteed. Since he didn't pitch well this spring and has already dealt with fatigue issues, they decided it was best to cut him so they would only have to pay 25 percent of his salary or $737,500.
There is no word yet as to how much exactly the Athletics are going to pay Gaudin this season, but it is likely a very small amount, probably less than $1 million.
There is also nothing on the length of the deal, but it's probably just a one-year deal although he would still be under the team's control after the season and arbitration eligible.
Before joining the Yankees Gaudin, had some of the worst facial hair in all of baseball. He was forced to shave while with the Yankees because of their nothing-below-the-lip policy. Now that he's with the A's it's possible he grows that awful thing back.
Update
Ross is right, I didn't backup my headline with the proper pictures, so here we go:
The not so bad
The bad
The worst
Related Stories
Read more New York Yankees news on BleacherReport.com