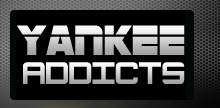 September 21, 2010 · Asher B. Chancey · Jump to comments
Article Source: Bleacher Report - New York Yankees
Is there any way we can talk the Baseball Writers Association of America out of voting for C.C. Sabathia as the American League Cy Young Award winner?
I doubt it.
The New York Yankees are having an incredible season, and so is their ace. C.C. Sabathia leads the American League in wins with 20, and will likely be the only pitcher to reach that number. Sabathia is probably going to be the AL Cy Young Award winner, and he will be a fine choice.
Unfortunately, he will also be the wrong one.
If things hold up, Sabathia's year-end numbers will probably look something like this:
21-6, 3.00 ERA, 235.0 innings pitched, 195 strikeouts, 75 bases on balls, 20 home runs allowed, 145 ERA+.
These are perfectly respectable numbers.
From an aesthetic standpoint, I hope he can get his ERA under 3.00, because it always bothers me when a Cy Young Award winner has an ERA in the threes, but other than that I can't complain about these being the numbers of the AL Cy Young winner.
But they will not be the numbers of the league's best pitcher. That pitcher is Felix Hernandez, as any reasonable person can plainly see.
Other than win-loss record, Hernandez has bested Sabathia in every single pitching category. He leads the AL in ERA with a 2.35, well lower than Sabathia. He also leads the AL in innings pitched and strikeouts, as well as games started and batters faced.
He has topped Sabathia in complete games, shutouts, hits allowed, runs allowed, home runs allowed, and bases on balls. True, he has thrown more wild pitches and hit one more batter, but those are small complaints.
At the end of the day, the AL Cy Young Award is going to go to the guy with the better record.
The Baseball Writers Association of America is almost stunningly consistent in this regard, and Felix's 12-11 record—just one game over .500—won't convince them otherwise..
But, to those writers on the fence, I would like to suggest the following:
Sabathia's record isn't better than Hernandez's.
Crazy, I know. But hear me out.
Sabathia, of course, pitches for the best team in baseball. He is currently 20-6, which gives him a .769 winning percentage. The Yankees, though, are 91-59, which gives them a .607 winning percentage.
Now, if Sabathia were winning games at the exact same rate as the Yankees, rather than being 20-6 he would be 16-10. So, Sabathia currently wins 20% more games than the Yankees do.
Meanwhile, Hernandez pitches for the second worst team in baseball, the Seattle Mariners, who are currently 57-92, for a .383 winning percentage. Hernandez, though, is 12-11 for a .522 winning percentage.
Now if Hernandez were winning games at the same rate as the Mariners his record would be 9-14. Thus, Hernandez wins 25% more of his games than the Mariners do.
Et voila, Hernandez has a better record.
Not buying it? Fine; I didn't expect you to.
I didn't really expect you to give the AL Cy Young Award to the best pitcher in the American League, either.
Asher B. Chancey lives in Philadelphia, PA, and is a co-founder of BaseballEvolution.com.
Read more New York Yankees news on BleacherReport.com