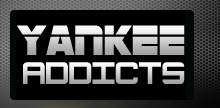 News published by
November 11, 2010
Derek Jeter winning his fifth Gold Glove in recognition of his play at shortstop on Tuesday has caused quite the firestorm on both sides of the issue this week, with ...
November 10, 2010
New York Yankees shortstop Derek Jeter, for years one of the worst defensive shortstops in all of Major League Baseball, somehow managed to win his fifth Gold Glove on Tuesday ...
November 10, 2010
After another fine season and trip to the postseason in 2010, Derek Jeter got a little more good news on Tuesday afternoon when it was announced that he'd received his ...
November 8, 2010
We're about to present a slideshow in which we analyze the voting for the 2010 American League Cy Young Award. We're going to look at 10 Cy Young Award candidates ...
September 21, 2010
Is there any way we can talk the Baseball Writers Association of America out of voting for C.C. Sabathia as the American League Cy Young Award winner? I doubt it. The New ...
September 17, 2010
Over the many years of player comparison and analysis, our understanding of what it means to be a great baseball player has continually evolved.Along with that, we have also formed ...
September 7, 2010
In a year in which Alex Rodriguez and Derek Jeter have struggled to live up to their own standards, Robinson Cano has become the star of the New York Yankees ...
September 2, 2010
It may be all over except for the crying.With eight innings of one-hit ball on Thursday afternoon against the Oakland Athletics, C.C. Sabathia has become the front-runner for the AL ...
September 1, 2010
In a year of stunning rookie performances, Cuban defector and Reds uber-prospect Aroldis Chapman made his major-league debut on Tuesday, facing three batters in one inning of work. The 22-year-old ...
August 25, 2010
Everyone knows what it means: your team is flush with money and run by talentless slobs, who can make up for an inability to develop high quality talent within the ...