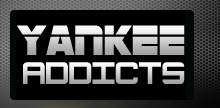 October 12, 2011 · Michael Moraitis · Jump to comments
Article Source: Bleacher Report - New York Yankees
Unless he's the biggest moron in MLB history, CC Sabathia will opt-out of his contract with the New York Yankees in search of more years and more money. And who can blame him?
Now, should the Yankees give him what he wants? My pride says no, but my brain says yes.
However, the Yankees' ace is the best option the Bombers will have moving forward. If you don't sign Sabathia, there isn't much else out there.
Looking to free agency, C.J. Wilson will be out there but Nolan Ryan and the Texas Rangers will stop at nothing to keep him. We all know how much Ryan loves his pitching and there is no doubt he won't allow Wilson to leave town.
Next you have Mark Buehrle. He could be a solid number two on any rotation in baseball, but if the Yankees don't re-sign Sabathia, they will need to replace an ace.
Buehrle is no ace.
The trade market will be thin as well, at least thin when looking for a top pitcher.
The Yankees do have the top prospects to make a deal, but there are many teams looking to add a top starter, not trade one away.
Perfect example: Felix Hernandez.
The Mariners have said they have no intention of trading their stud No.1, and not to mention Hernandez himself saying he has no desire to pitch anywhere else.
So it seems the Yankees have no choice but to keep their ace who will certainly garner more dollars and specifically, more years than he deserves.
Sabathia has clearly gained a ton of weight this season, something that was evident by looking at his bulging mid-section during the ALCS. The Yankees face a possible future of a super-fat Sabathia breaking down in the middle of a long-term deal because of his weight.
If your the Yankees, you don't want to get stuck with a 36-year-old, overweight and over-the-hill starter making $25 million per year. That could turn into a nightmare for the Yanks and could hinder them for a long time.
So how can the Yankees avoid this?
Give Sabathia whatever money he is looking for, but with a stipulation. That stipulation is a conditioning clause. Make it so Sabathia will have to stay slender and take care of himself much more so than he is right now.
I'm no General Manager, but I'm sure there's a way the Bombers could work that. And if Sabathia isn't completely greedy and selfish, he would be accepting to such a clause.
If your looking for the Yankees to take the prideful way and not re-sign Sabathia, don't hold your breath. The Yankees will keep their best pitcher and give him the years he wants despite the fact that Sabathia is making a ton of money already.
If you let him go, here's what the front end of your rotation will look like:
Ivan Nova, A.J. Burnett, Phil Hughes.
Scary isn't it? Despite him not deserving to opt-out and get even more money, the Yankees have no other choice.
Time to swallow that pride.
GULP!
@michaelmoraitis
Read more New York Yankees news on BleacherReport.com