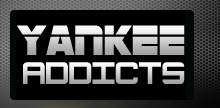 September 13, 2010 · Jared Smith · Jump to comments
Article Source: Bleacher Report - New York Yankees
While the rest of the sports' world was watching a sloppy Monday Night Football game between the New York Jets and Baltimore Ravens or perhaps watching the U.S. Open Final, MLB diehards watched as New York Yankees' C.C. Sabathia and Tampa Bay Rays' David Price dueled it out at Tropicana Field.
If you missed it, you missed a gem that produced post-season like excitement which ended with a Reid Brignac 11th-inning, walk-off home run, which allowed the Rays to leap frog the Yankess for first place in the AL-East standings.
The 26,907 in attendance at the Trop witnessed a game that featured a pitching match up that lived up to the hype.
The only thing this game didn't produce was a definitive answer to who the AL-Cy Young front runner is.
The two lefties matched each other batter for batter. Neither backing down to the other AL-Cy Young candidate.
Price was outstanding going eight innings allowing just three hits and striking out four. Only Derek Jeter, Robinson Cano, and Curtis Granderson collected singles off the All-Star starter.
The only trouble Price found was in the top of the seventh with one out when Cano singled then Mark Tiexeira walked. Price ended the threat by getting Alex Rodriguez and Marcus Thames to fly out.
Sabathia matched Price with his patented late-season form allowing just two hits, two walks while striking out nine.
Sabathia only issues came In the bottom of the eighth when Tampa's Sean Rodriguez slapped a lead-off single to center field and advanced to second after Dioner Navarro's sacrifice bunt.
With one out, Kelly Shoppach was hit by a pitch, but Sabathia struck out B.J. Upton and got Jason Bartlett to ground into a fielder's choice.
To say which pitcher did better and put themselves in a position to earn the Cy Young would be like to ask a friend which of two Victoria Secret models they'd prefer. You can't go wrong.
Currently, Sabathia has more wins (19), a better WHIP, and more strike outs; but Price has a better ERA (2.75).
Price's mirrored performance of Sabathia kept the Yankees' ace from earning his first 20-game season; Sabathia probably will try again against the Baltimore Orioles on Sunday, however, Price's willingness to match a seasoned vet was very impressive.
It all comes down to who Cy Young voters think is the MVP pitcher of their rotation and probably which team wins the division.
However, I can't think that Price not having won before helps his cause. Either way, I just hope that MLB fans who missed tonight's duel will get to see it in the ALCS.
After tonight, I'll bet sports' fans will be watching that.
Read more New York Yankees news on BleacherReport.com