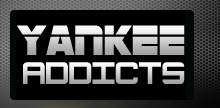 News published by
September 13, 2010
While the rest of the sports' world was watching a sloppy Monday Night Football game between the New York Jets and Baltimore Ravens or perhaps watching the U.S. Open Final, ...
September 6, 2010
On Sunday, I made my second journey to the new Yankee Stadium with my fiance, Kate, and watched the New York Yankees lose, 7-3, to the Toronto Blue Jays. For the ...
August 22, 2010
Today, New York Yankees' pitcher C.C. Sabathia tries to continue a regular-season, unbeaten streak at home, which is at 19 games (14-0, 2.27 ERA), and place a stamp on my ...
August 5, 2010
Celebrity gossip reporter, Perez Hilton, posted on his website that Alex Rodriguez broke a home run world record on Wednesday afternoon. (Sorry, I thought Perez Hilton breaking the A-Rod story ...