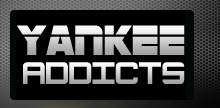 October 31, 2011 · Doug Mead · Jump to comments
Article Source: Bleacher Report - New York Yankees
The CC Sabathia opt-out speculation is now over. Yankees fans can breathe freely once again.
The Associated Press reported early Monday evening that New York Yankees starting pitcher CC Sabathia opted not to exercise his unusual opt-out clause, and negotiated an additional two years to be added on to his contract, worth an additional $30 million.
Sabathia, who finished the 2011 season with a 19-8 record and 3.00 ERA, now has five years remaining on his contract, with an additional option year added for the 2017 season, worth another potential $25 million.
Sabathia let fans know that it was his intent all along never to leave the Bronx.
"My goal the whole time was to be able to finish my career as a Yankee," Sabathia said in a video posted on Twitter. "I look forward to seeing everybody out at the ballpark next year."
While many experts and pundits widely expected Sabathia to exercise his unusual opt-out clause, which allowed him the opportunity to walk away from his contract after three seasons, Sabathia proved everyone wrong, and in the process proved that he wanted to be a Yankee for the rest of his career.
With one major obstacle now out of the way for the Yankees front office, they must now piece together the rest of their rotation, which was a main source of contention during the second half of the 2011 season and throughout the playoffs.
Just who are the pitchers that the Yankees could go after to support Sabathia at the top of the rotation?
Let's take a look.