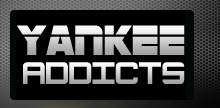 June 21, 2009 · Adam Bernacchio · Jump to comments
Article Source: Bleacher Report - New York Yankees
New York Yankees' ace CC Sabathia left today's game against the Florida Marlins with one out in the second inning because of an apparent injury. I say "apparent" because even watching the game, I am not sure exactly what was wrong with the big lefty.
After his last warm up pitch, Joe Girardi came to the mound with the Yankees' trainer to check on CC. The YES Network showed a replay of that pitch, and nothing looked unusual.
Sabathia went on to face two batters in the second inning. Cody Ross hit a rope to center field for the first out. Then Sabathia gave up another rope to Brett Carroll, but this one went for a double.
What is bizarre is that after the double, Girardi and the trainer went to the mound again to check on Sabathia. You could hear Sabathia say "I am fine, I am fine." Apparently he wasn't, because Sabathia was lifted from the game.
More on this story as it develops.