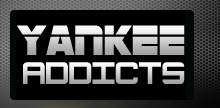 October 19, 2011 · Chris Sbalcio · Jump to comments
Article Source: Bleacher Report - New York Yankees
With the 2011 season officially over for the Yankees following a 3-2 Game 5 loss to the Tigers in the ALDS, all eyes are focused squarely on the "big man." Yankees ace CC Sabathia has reached the infamous opt-out clause in his contract, which allows him to walk away from the remaining four years and $92 million on his record-setting contract. Now, while the rest of us would view such a decision as selfish and greedy, CC and his agent look at it as a chance to make even more money because, after all, baseball is first and foremost a business.
While the general consensus is that CC will eventually re-sign with the Yankees, it isn't entirely out of the realm of possibilities that he could entertain other offers. This offseason's free-agent class is especially weak in starting pitching, with the two "top prizes" seemingly being the Rangers' reliever-turned-"ace" C.J. Wilson, and the unproven Japanese superstar, Yu Darvish. It's likely both CC and one of these two will sign with the Yankees, but last offseason Cliff Lee showed us that the Yankees actually don't always get what they want, so now we must assume anything is possible.
Still, any team that wants to try to woo CC away from New York would have to beat the Yankees' offer, and only a handful of teams have that capability. Not many organizations have the deep pockets to rival the Steinbrenners, so what I'm going to do is identify the few that do.
I would normally include the St. Louis Cardinals in this discussion, but seeing as they will have their hands quite full this offseason trying to sign franchise icon Albert Pujols, I'm going to assume that they will sit this one out. That still leaves 7 clubs that I see as potential contenders for the big fella, and all of them will likely give CC's agent a jingle.