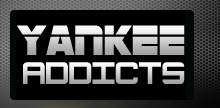 April 10, 2010 · Jordan Schwartz · Jump to comments
Article Source: Bleacher Report - New York Yankees
He just couldn't wait to get out there.
Manager Joe Girardi appeared to be out of the dugout before Kelly Shoppach's line drive single to left hit the turf in front of Brett Gardner with two outs in the eighth inning.
It was the Rays' first hit of the afternoon off CC Sabathia and with the big lefty at 111 pitches in his second start of the season, Girardi basically sprinted onto the field to pull his pitcher from the game with an 8-0 lead.
When the skipper actually got Chan Ho Park up in the bullpen with the no-hitter still intact in the seventh, you have to wonder whether Girardi might have been rooting for Sabathia to give up a hit.
That's the pitch-count obsessed era we live in, but it was the only negative from a very impressive 10-0 Yankees win against Tampa Bay Saturday in St. Petersburg.
Here are the grades from New York's third victory of the year.
CC Sabathia, SP: (A+) The southpaw almost picked up the second A++ I've handed out in the past three seasons (Hideki Matsui got the first in Game 6 of the 2009 World Series), but he fell just four outs shy of completing the 264th no-no in baseball history.
After a shaky Opening Night start during which he surrendered five runs in 5 1/3 innings against the Red Sox, Sabathia was much sharper Saturday, striking out five and walking two.
CC's career 4.63 ERA in April is his worst of any month, so hopefully this performance is an indication that he won't get off to his usual slow start.
Joe Girardi, Manager: (A-) No. 28 had the Yankees attempt three steals and instructed Francisco Cervelli to lay down a bunt during a key rally, so Girardi definitely had the small ball going in this one.
I also like how he didn't use Phil Hughes in the first turn of the rotation because there was no need to utilize a fifth starter because of two off days this week. This is a good way to keep the right-hander's innings down as opposed to limiting him to four innings or 65 pitches per start in August.
Derek Jeter, SS: (C-) The captain hit an RBI single and scored a run in the fifth, but that was his only production in five at-bats as Jeter continues to ground to shortstop a bit too much, bouncing into a double play once again on Saturday.
Nick Johnson, DH: (D) Johnson is still struggling at the plate, going 0-for-4 to drop his average to .111, but he did walk and score in the ninth.
Mark Teixeira, 1B: (A+) After starting the season 0-for-16, Teixeira broke out in a big way, going 3-for-4 with an RBI double, a walk and two runs scored. He also made a spectacular diving grab on a line drive to end the sixth and preserve the no-hitter.
Alex Rodriguez, 3B: (A) A-Rod might've made an even better defensive play when he dove for a hard-hit ground ball, gloved it, hopped up, and fired to first to keep the no-no alive in the seventh. At the plate, Rodriguez was 2-for-4 with a walk and a run scored.
Robinson Cano, 2B: (A+) Cano is fitting in quite nicely in that five-hole. The second baseman opened the scoring with a two-run homer in the fourth before adding an RBI single in the ninth. He's now hitting .381.
Nick Swisher, RF: (A) Swisher is also off to a solid start, going 1-for-3 with a walk and a run scored to raise his average to .353 and his on-base percentage to a staggering .476.
Curtis Granderson, CF: (A) Granderson was 2-for-3 with an RBI, two walks and a steal.
Brett Gardner, LF: (A) I was worried about the Yankees' outfield entering this season, but the three starters have all hit very well over the first week. Gardner was 2-for-2 with two RBIs, two runs, a walk, and a steal and is now batting .385 with a .467 on-base percentage.
Francisco Cervelli, C: (A) Girardi picked quite a day to get Cervelli his first start as the backup catcher did a masterful job with Sabathia before adding a two-run double in the eighth.
Ramiro Pena, PR-3B: (INC) Pena pinch-ran for A-Rod in the ninth and wound up scoring New York's final run.
Randy Winn, RF: (INC) Winn replaced Swisher in right and went 0-for-1.
David Robertson, RP: (B+) The hard-throwing righty picked up a balk before throwing his first pitch, but then settled down to retire four of the five batters he faced, including two strikeouts.
Yankees Overall Grade: (A+) Doesn't get much better than a 10-0 win with a no-hitter in the eighth. The Bombers send A.J. Burnett to the hill Sunday in the rubber game against the Rays.
Follow me on Twitter at JordanHarrison .
Jordan Schwartz is one of Bleacher Report's New York Yankees and College Basketball Featured Columnists. His book Memoirs of the Unaccomplished Man is available at amazon.com, barnesandnoble.com, and authorhouse.com.
Jordan can be reached at jordanschwartz2003@yahoo.com .
Read more New York Yankees news on BleacherReport.com