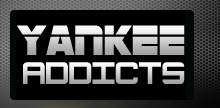 June 12, 2009 · Todd Civin · Jump to comments
Article Source: Bleacher Report - New York Yankees
Some time ago, I made a conscious decision to change my focus when writing. I had become too deeply entrenched in the negative cloud that surrounds the sport I love. I felt as if my stories were always written about steroids, salaries and negativity.
And though, I still dabble in some occasional Yankee bashing, it was at that point that I made a choice to change my course.
Funny how God works. I didn't start looking under rocks to find the good that flows from baseball and it's players every day. The good seemed to find me. I've since been blessed with several God-incidences (because there are no coin-cidences) in which I was brought in touch with the good guys that make up the very cloth that is baseball.
Though not nearly as exciting to us blood thirsty fans, the Jason Grilli's and Brent Maynes and the Ed Herrmann's are far more abundant than the Manny's and A-Rod's and Clemens'. My involvement with the book "A Glove of Their Own" opens up more doors daily. There are stories waiting in my head to be told and eager story tellers lining up to give me more.
So as I update you about what special project former MLB catcher Ed Herrmann has his hands in, remember we choose our friends and we are what we write about. No soap box here, simply an observation about life's course.
Ed Herrmann is another one of the good guys. A guy we want to write about instead of a guy I have to write about. Whether on the field, in his home or on the golf course, doing the right thing for his fellow man exhumes from his very being.
I became acquainted with Ed via Linked in and Facebook of all places. Who would think I'd find an ex-major leaguer playing the games of 2009? I guess like everyone, Ed puts his pants on the same way I do and although baseball players often seem larger than life, they too want to kibitz with the regular Joes like you and me.
On paper his career would be classified as a good one. Rarely a superstar in the daily box score, but a steady performer day in and day out. his life following his retirement from the game however has been approaching Hall of Fame status.
Herrmann's career bio reads as follows. Ed is a native San Diegan who was a pitcher/outfielder on a star studded high school baseball team.
In 1964, as a 17 year-old, Ed signed directly out of high school with the Milwaukee Braves. His grandfather, Marty Herrmann, played with the Braves in the early 1900's so although other teams offered him contracts, the Braves was his chosen team.
Three years later, the Chicago White Sox put Ed on their major league roster and he remained with them until 1974 when he was traded to the New York Yankees. During his career he also played for the Los Angeles Angels the Houston Astros and the Montreal Expos.
Ed's career highlights included his 1970 season when he batted .283 with 19 home runs and 52 RBI's. He was also elected to play in the 1974 All-Star Game and in 1976 while playing for the Houston Astros he caught Larry Dierker's no-hitter.
As I said, his career on the pages of MLB.com would be classified as more than respectable. But in the book that really counts, Ed's career contains substantially more highlights.
Since leaving the major leagues, Herrmann has worked in many capacities in baseball including a baseball scout, tutor, a coach, and a manager of youth teams ranging in age from 13 thru college.
Of these travel teams, he coached 4 national championships. Many of the players he tutored or coached on his teams, have gone on to have successful careers in professional baseball or used their talents to receive college scholarships.
Herrmann is the Director for West Coast Recruitment with Seminara Sports Agency of New York. He is also a year-round coach for Del Mar Powerhouse. During the summer months, he works with high school age baseball players on travel teams. He also works many baseball camps and tutors most levels for hitting and catching.
His greatest passion is as a volunteer coach with The Rock Academy Baseball Team, the Junior High and High School associated with The Rock Church in Point Loma. He also volunteers with the San Diego Coalition for the Homeless. He tries to surround himself daily with the things he loves, family, baseball and helping those less fortunate than him.
Herrmann is currently looking for athletes for his upcoming Golf tournament to be held at the Rock Church as part of the Christian Music Award festivities.
"This upcoming August 22nd, the Christian Music Awards are being held at the Rock Church. United One Productions which puts on the Awards Ceremony has a golf tournament to raise funds for their ministry called "Bringing Broken Neighborhoods Back to Life" (www.bbnbtl.com)" explains Herrmann.
"The Rock Church has been offered the opportunity to assist with this event. It will be a celebrity Golf Tournament with a mix of some CMA celebrities and athletes. The Golf Tournament will be on the August 20th (tee time and green fees TBA) at prestigious Carmel Mountain Ranch Country Club in North San Diego County."
"It's my focus to get athletes to participate in the event, but I have no idea who the entertainers will be," explained Herrmann whose website can be found at www.edherrmann.com
To date Herrmann, former San Diego star pitcher, Randy Jones and three-time Pro Bowl defensive back, Willie Buchanon are amongst the participating athletes.
"We expect to have 1 or 2 athletes per foursome and will also be holding a silent auction. I'd love for athletes to contact me so we can make it a memorable event for all."
Herrmann can be reached via Facebook or Linked in messaging or by emailing him at hoggy@baseballmail.com
Todd Civin is a freelance writer who writes for the Bleacher Report. He can be reached at toddcivin1@aim.com with comments or story ideas. He is also a supporter of "A Glove of Their Own", the award winning children's book that is capturing the heart of the nation. For more information visit the site at www.agloveoftheirown.com and purchase under today's donor code JOE 689-The Joe Torre Safe at Home Foundation.