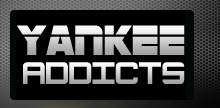 December 2, 2011 · Harold Friend · Jump to comments
Article Source: Bleacher Report - New York Yankees
Casey Stengel had been there before and won.
The defending world champion Brooklyn Dodgers led the New York Yankees two games to none in the 1956 World Series. The Yankees had to win four of the next five games.
And that is what they did.
Warren Spahn beat the Yankees in the opening game of the 1958 World Series. Bob Turley started Game 2 against Yankees nemesis Lew Burdette in an effort to even the series.
Mickey Mantle hit a pair of home runs, and Hank Bauer hit one as the Yankees scored five runs off Burdette.
The problem was that the Milwaukee Braves blasted 21-game winner Bob Turley for seven runs in the first inning. The game was over almost before it started.
After the game, the Yankees put up what seemed to be a brave front, which was real.
Mickey Mantle, Yogi Berra, Hank Bauer, Gil McDougald, Moose Skowron and Game 3 starter Don Larsen expressed confidence that things would change at Yankee Stadium.
Stengel was more than a bit touchy when asked if the Yankees' situation was desperate.
"Desperate? Desperate? Who says things are desperate? This has happened before, for me, as well as against me. I don't think the situation is desperate at all. We gotta get more hitting…and we gotta get more pitching."
Whitey Ford believed that the World Series was far from over.
"They've had the good pitching and the hitting so far. Now we start. Larsen will beat the Braves Saturday. If Casey comes back with Turley on Sunday, Bob will even the series. Then, if the manager starts me, I'll try to beat them on Monday."
Berra explained why Turley lasted only one-third of an inning. He said the Braves were hitting Turley's fastball so he switched to the curve, but Turley couldn't control it.
They had to go back to the fastball. Then, Stengel had to bring in another pitcher.
Losing the first two games to the Braves in 1958 seemed different from losing the first two games to the Dodgers in 1956.
The Yankees had lost four times to Lew Burdette without ever beating him, and Warren Spahn always pitched strong games against them.
After Bob Rush in the third game, the Yankees would face Spahn in the fourth game and Burdette in Game 5, if necessary.
Brooklyn's Don Newcombe was hardly ever a problem for the Yankees. The only time he pitched a great game against the Yankees, in the 1949 World Series, Allie Reynolds shut out the Dodgers and beat Newk 1-0 on Tommy Henrich's home run.
In 1956, it took Don Larsen's perfect game to beat Sal Maglie, who held the Yankees to a pair of runs after he beat them 6-2 in the opener.
The Yankees were facing a difficult situation. But they remained undaunted.
Reference:
http://search.proquest.com/docview/114538292?accountid=46260
By Louis Effrat in The New,York Times. (1958, Oct 03). Stengel angrily denies Yankees' plight is desperate after second defeat. New York Times (1923-Current File), pp. 35-35
Read more New York Yankees news on BleacherReport.com