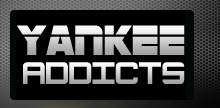 April 20, 2009 · Perry Arnold · Jump to comments
Article Source: Bleacher Report - New York Yankees
In the winter of 2004 the Yankees signed Carl Pavano. He was much ballyhooed and there were great expectations for him when he came to New York.
Yesterday Pavano was everything the Yankees expected him to be as he pitched very effectively and late into the game giving his team a chance to win.
Unfortunately for the Yankees it came four years too late as he was pitching for the Cleveland Indians, the visiting team in Yankee Stadium.
Pavano won only nine games while losing eight for the Yankees over his four year contract. In fact he pitched in exactly 26 games for the Bombers to earn his $40 million dollar contract.
Constantly injured, usually in rehab in Tampa, Pavano became the butt of jokes and earned the scorn of his Yankee teammates.
But yesterday he had the kind of form Brian Cashman thought he would see when he signed the big right-hander in December 2004.
Fortunately for Yankee fans, despite Pavano's good performance, the Yankees were able to come from behind after Carl left the game. The Yankees managed to win the game 7-3 to push one game above the .500 mark for the season.