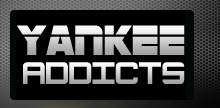 October 13, 2010 · Bronx Baseball Daily · Jump to comments
Article Source: Bleacher Report - New York Yankees
Via MLB.com:
Losing Carlos Pena and Rafael Soriano hurts, but Carl Crawford came up through the organization's farm system and has been the team's biggest star in franchise history—so the prospect of C.C. leaving hurt most.

"I don't want to leave, everybody knows that," Crawford said. "I like it here. I've made that known. I wish something was able to be worked out."
Two things here. First, he spoke in the past tense about wishing something could be worked out. The other is that the Rays seem to be set on cutting payroll and Crawford is poised for a huge payday on the free-agent market.
We're talking at least $100 million over as many as seven years. The deal could even go as high as Matt Holliday's seven-year, $120 million deal he signed last year with the Cardinals.
Last offseason it looked like the Yankees would be major players for Crawford, but things seem to have changed in the past year. The biggest change is that Brett Gardner and Curtis Granderson have become big parts of the Yankees offense. The Yankees also don't have a ton of money coming off their payroll and will target free agents Derek Jeter, Cliff Lee and to a lesser extent Mariano Rivera and Andy Pettitte making Crawford a lesser priority.
Still, these are the Yankees and they are always big-game hunters. Realistically, there is probably a better chance he ends up in the Bronx than Tampa Bay so we will follow the Carl Crawford market as it emerges this offseason.
Related Stories
Read more New York Yankees news on BleacherReport.com